Their bodies were bullet shaped and when they landed they folded their wings on top of their abdomen, one wing on top of the other so that the shape remained. They buzzed manically around our heads looking for a chance to land on us and bite. Riding became quite dangerous as, in a panic, our hands would leave the handlebars to stop them getting to us. We were totally surrounded by them and even though it was very hot we had to resort to head nets. Tse tse flies were everywhere in the Old Petauke Road.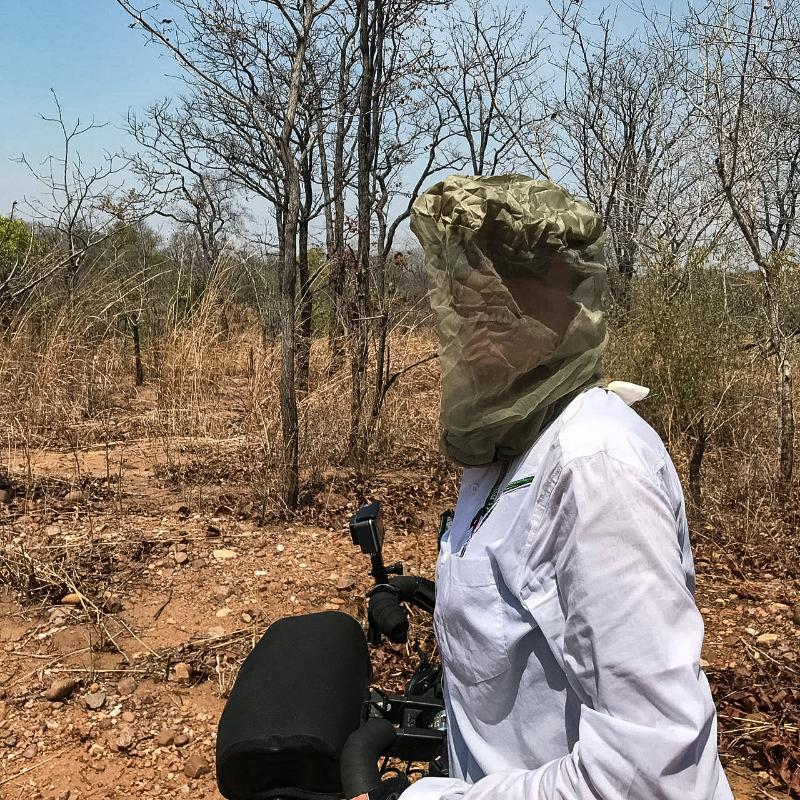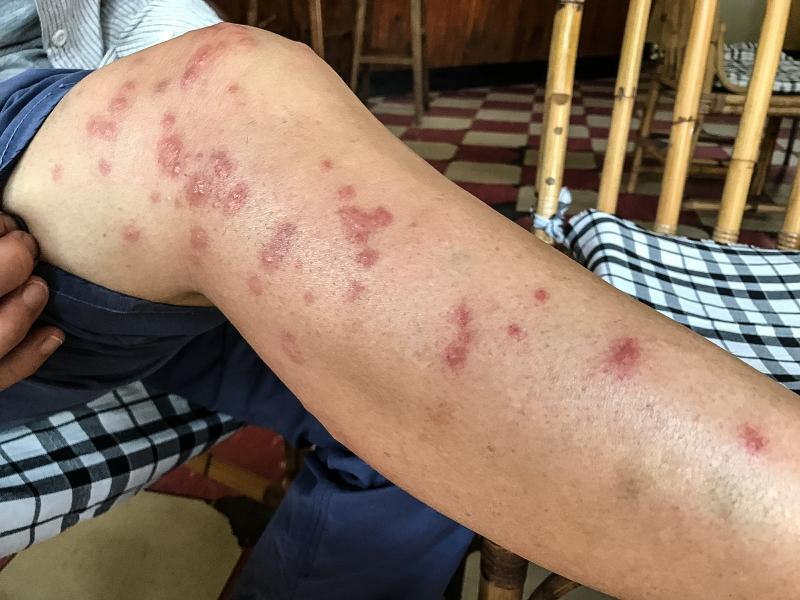 Karen was coming from the UK to cycle with me in Zambia and in spite of warnings from the locals that the many elephants in the area made it a dangerous place to go, we had decided to ride this very remote dirt road that follows the Luangwa River, instead of taking the main road to Lusaka.
The only reason that would stop us from taking this route would be the rain, as in the wet the road would be impassable. At one point it was touch and go as furious thunderstorms hit the South Luangwa National Park. One night I laid in my tent in awe, waiting for the thunder to arrive as huge lightenings made the night become day. When the sound came, it was so powerful that I could feel the ground under me shake and my stomach vibrate. The sound went in one direction and then turned around and came back the other way. I was being treated to nature's surround sound. Luckily the tent weathered the storm and I was safe and dry.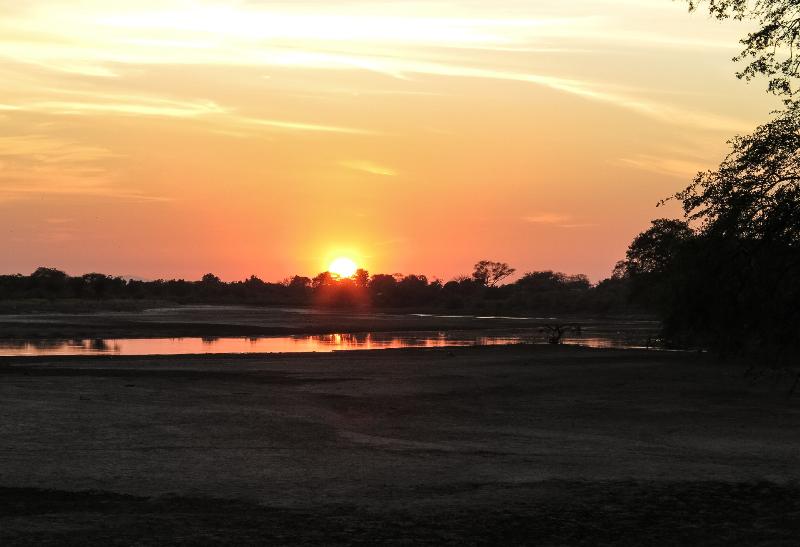 I had been at Croc Valley Farm for 12 days waiting for Karen. In that time elephants had come to visit, people overlanding on big trucks had come and go, I made some lovely new friends, spent a day with Asier, another basque cyclist that I'd first met in Kenya and twice in Malawi, got a surprise visit from Dakin with whom I'd sailed on Lake Tanganika and every night the hippos sang not-so-gentle-lullabies to help me go to sleep.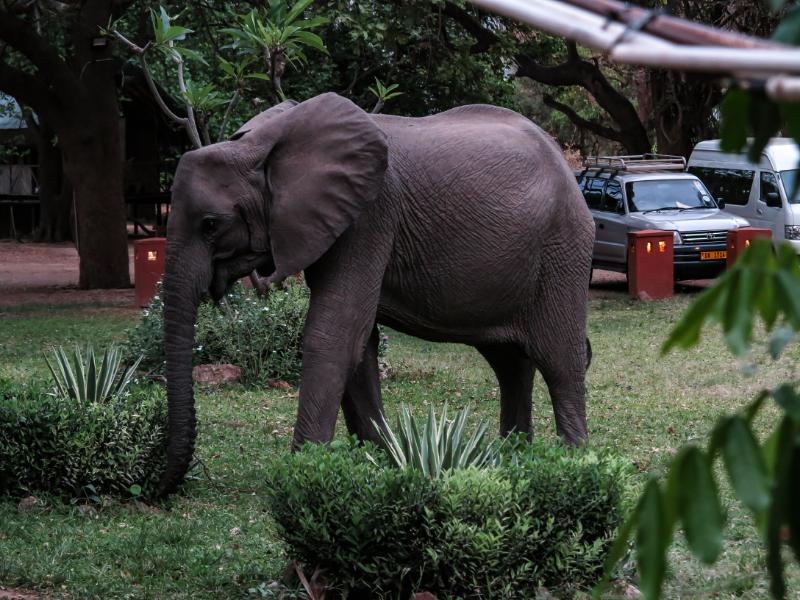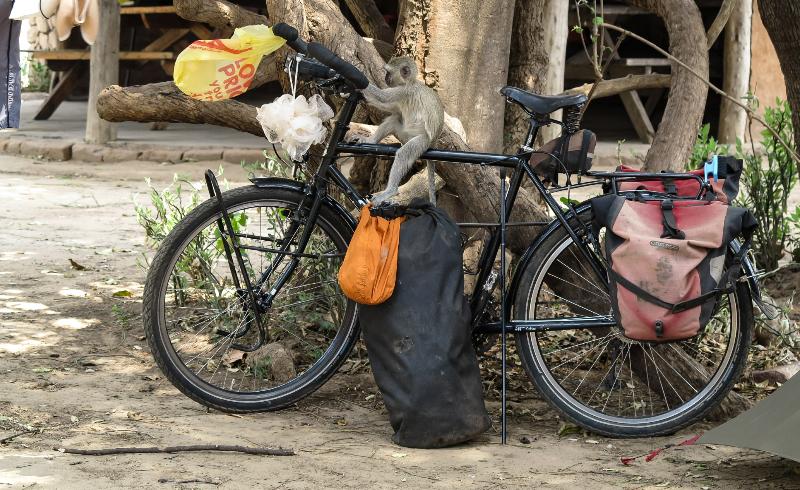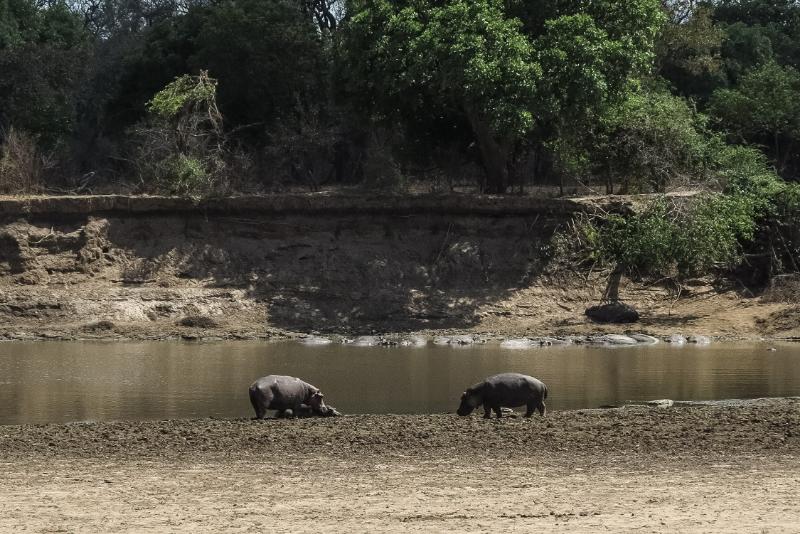 Karen arrived full of smiles, friendship and precious goodies impossible to get in this part of the continent, Xmas had arrived early. As I teared open plastic bags exposing tyres, filter bottle and spare parts for my panniers and stove, I let out shrieks of excitement. Finally I could repair my ailing panniers and be sure I had enough kit to make it to South Africa where I whould be able to get any parts I may need.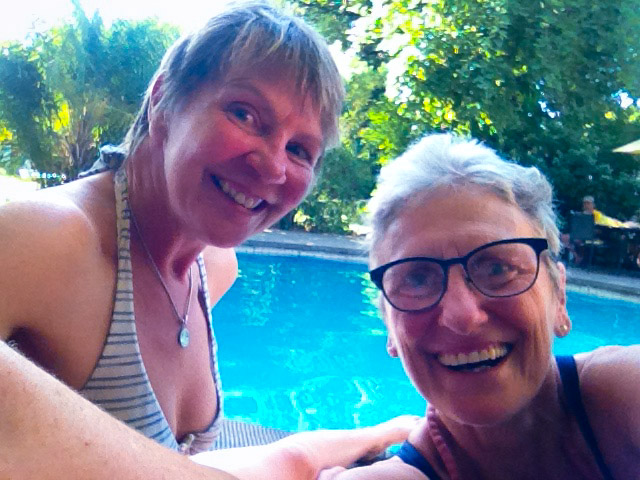 We didn't delay and soon left  the safety of Croc Valley and took to the road amongst the persistent warnings from the locals about the dangers of wild life on the Old Petauke Road, in particular elephants. Asier was ahead of us and had sent us the location of places where we could get water and find a safe place to sleep. He had done the whole 176 Km in two days but we knew it would take us much longer.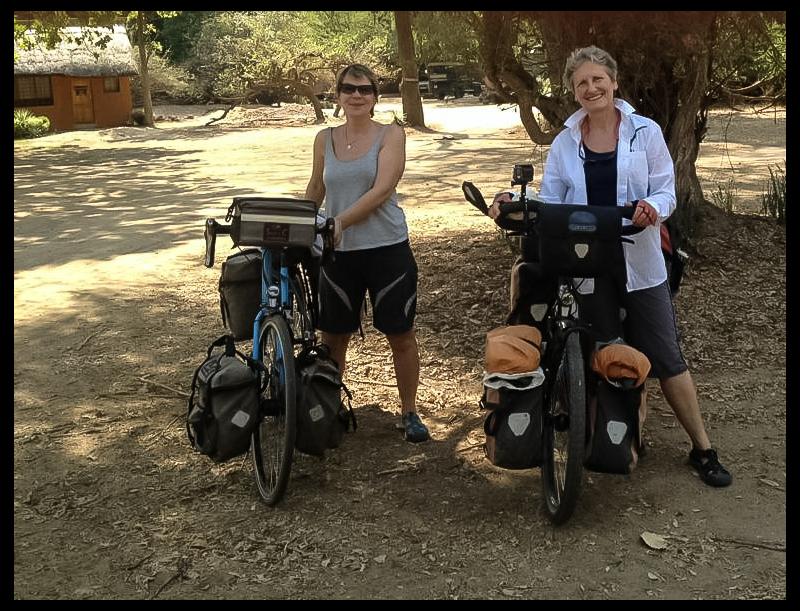 We were really excited when we hit the beginning of the road: this was it, we were entering the Old Petauke Road! Ahead of us were a few days of adventure.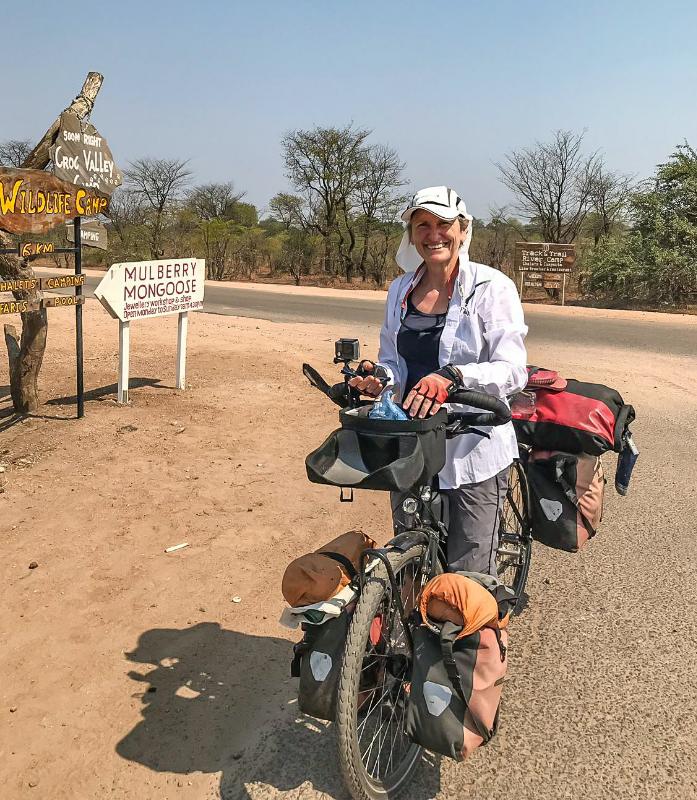 It was hot, extremely hot, waves of heat could be seen on the path ahead of us. Very quickly we had the feeling that we were somewhere very remote, the sandy road, the low thorny vegetation, the absence of villages. Scattered dung and trees and shrubs stripped bare told us that there were plenty of elephants around. We constantly looked right and left for their presence, we didn't want to be caught by surprise.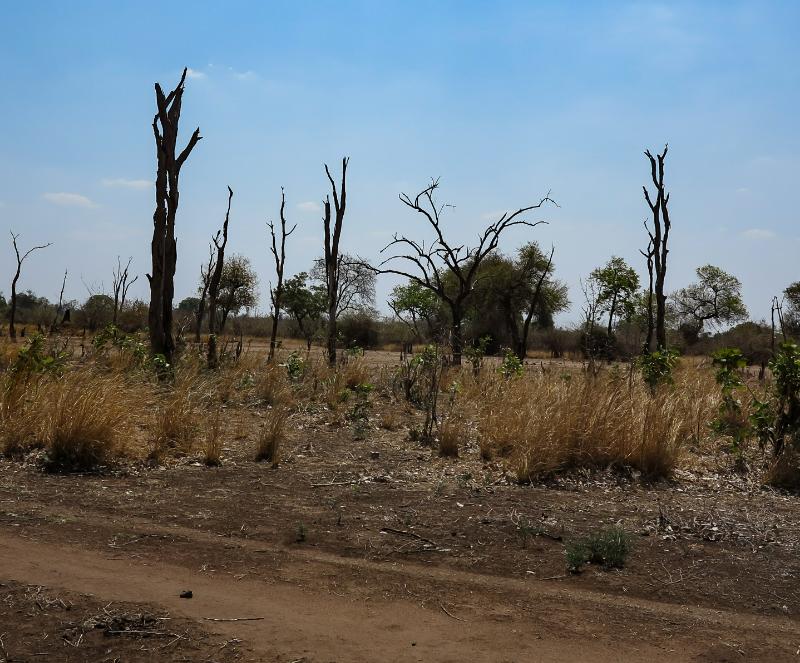 We were excited and euphoric and to start with the heat didn't seem to matter but after 40 Km of cycling I began to get terrible leg cramps, my ears were buzzing, light spots appeared in front of my eyes and waves of nausea came and went. I had to stop every few hundred meters and rest on my handlebars before I could continue. According to the coordinates Asier had sent us, we had five Km to go before we reached the first settlement where we could spend the night and there was no option but to carry on. I was thrilled Karen was with me, lovingly supportive. I didn't feel at all well and it would have been a scarier experience if I had been on my own.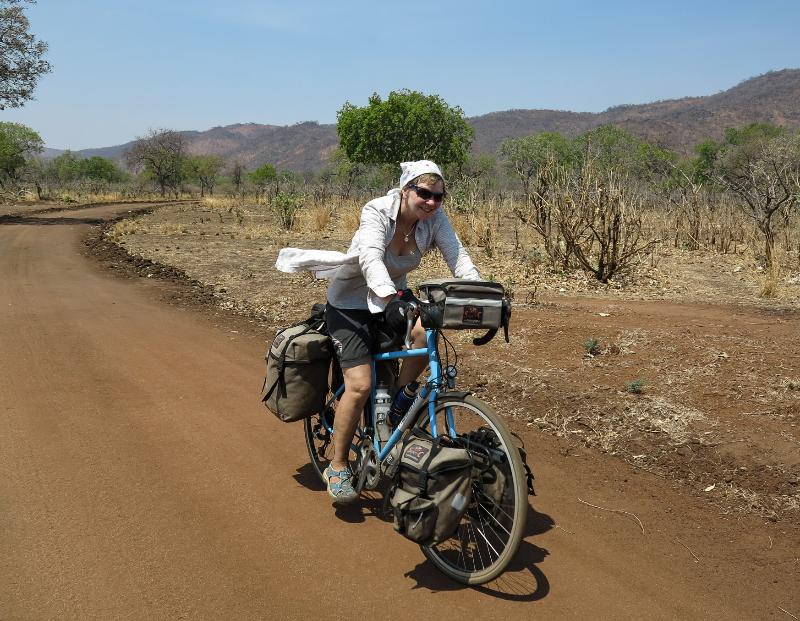 The place in the map was a Conservation College. They welcomed us and after pitching our tents, one staff member escorted us to the bore hole which was a couple of Km away. The principal was worried that we may come across elephants and didn't want us to go on our own. Pushing Roberts, Karen's bike, we walked through thorny bushes, crossed dry river beds and finally arrived at the pump. With Roberts loaded with 10 liters of water we went back to our tents, this time a different way through the bush. Everything had thorns and we had to be careful to avoid fallen branches that would have resulted in a puncture.
Back at the camp we had a shower under the stars in a grass enclosure with a pipe pumping water directly from the river. It was bliss to let the water run over me and get rid of the salt covering my body.
Once again the road had provided what we needed and the following day it even had a gift in store for us. Very early on the day, a herd of jirafes crossed the path in front of us. The light was beautiful and they were beautiful and majestic. We stopped to admire them and more and more kept appearing, big and small, we counted around 30.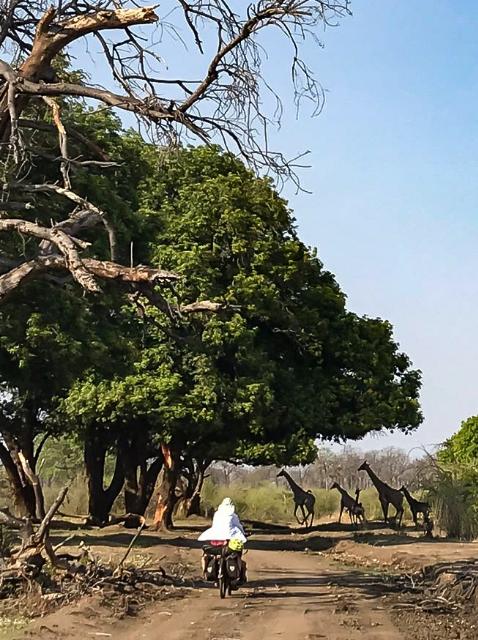 And the road continued to provide, throughout the day,  we foraged the fruit of wild mangoe trees to create a delicious chick pea and mangoe coconut curry that evening that we consumed under an incredible starred sky in a village chief's compound.
The third day on the Old Petauke Road was the hardest, the gradients became steeper and the surface of the road more difficult with big rocks, sand and loose stones. A fair amount of pushing took place. I love Foxtrot but she's not easy to push uphill. Push, brake, rest, push, brake, rest. At times like this I go inside myself, all my energy focused on the next five steps, it was a question of mind over matter and I knew I had plenty of energy left because I could still appreciate the beauty of what was around us.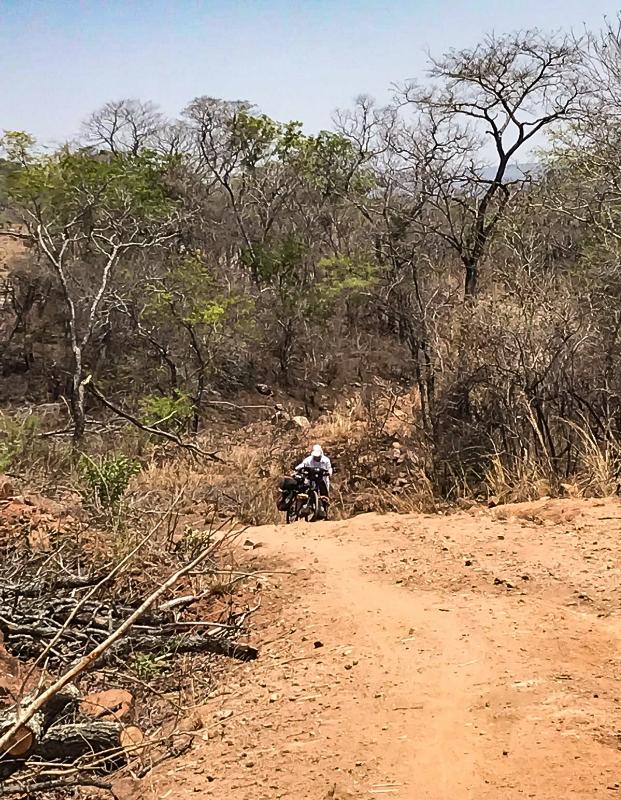 We still had the hardest hill to climb when a couple in a 4×4 stopped and after telling us we must be mad tackling a road like this, they offered us a cold drink. A COLD DRINK!!!!! That cold coke was pure nectar after three days of tepid water. I love this spontaneous encounters with other travellers on the road.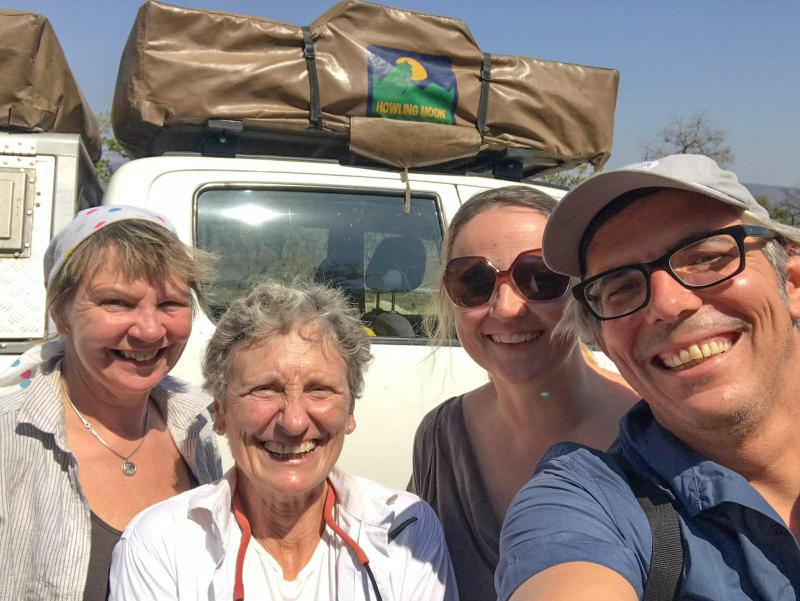 As we approached the 'main road' the distance between villages got less and we were able to buy some radioactive looking drinks. They were still tepid as the villages didn't have electricity but they provided some sugar and a break from the tasteless water.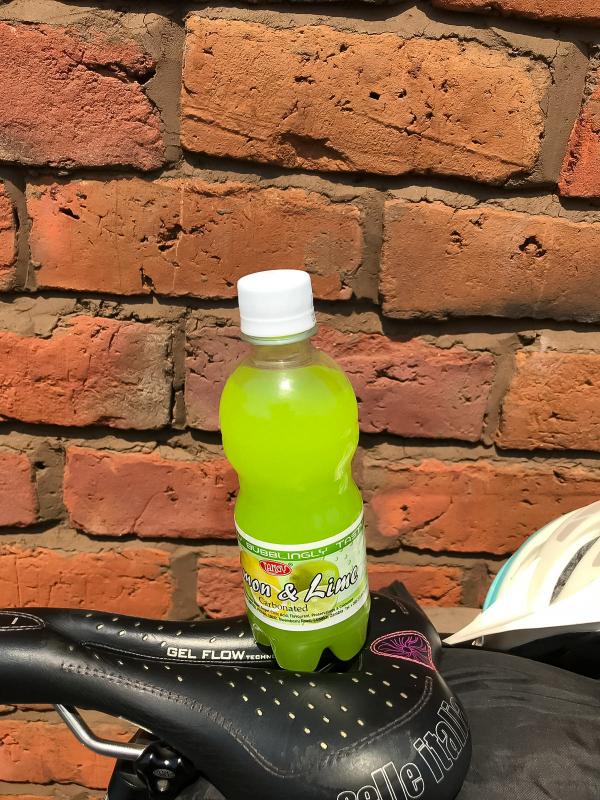 It was in one of these villages that we stopped on our last night,   this time we camped next to the water pump and the madrasa with dozens of children watching our every move.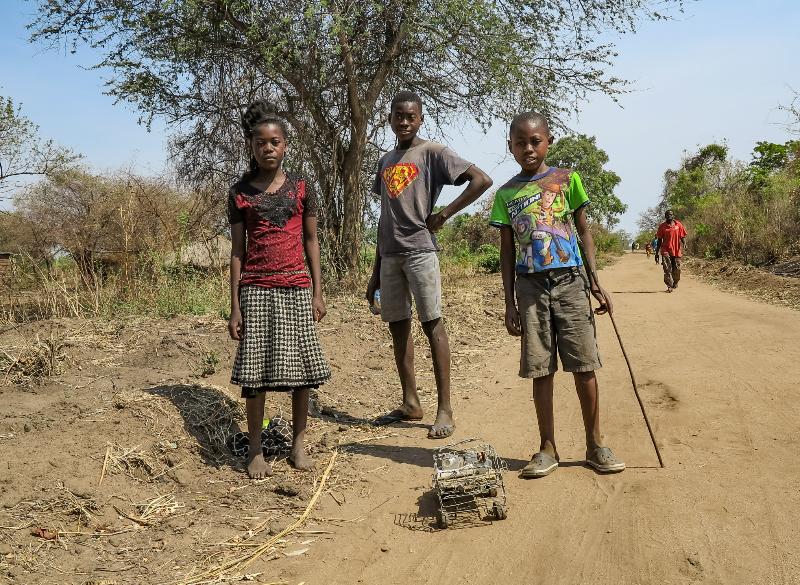 One more day and we would be in Petauke where we would find tarmac again. It had taken us four days to cover the 176 Km of the Old Petauke Road.
After the Old Petauke Road, Karen and I had more wonderful days cycling together. We went up and down hills, stayed with newly made friends, met Blanca and Oscar also cycling the length of Africa, got thrilled at finding stalls on the road to buy ingredients for our dinners, enjoyed 'homely' guesthouses with lovely landladies and laughed at my first ever clipper hair cut.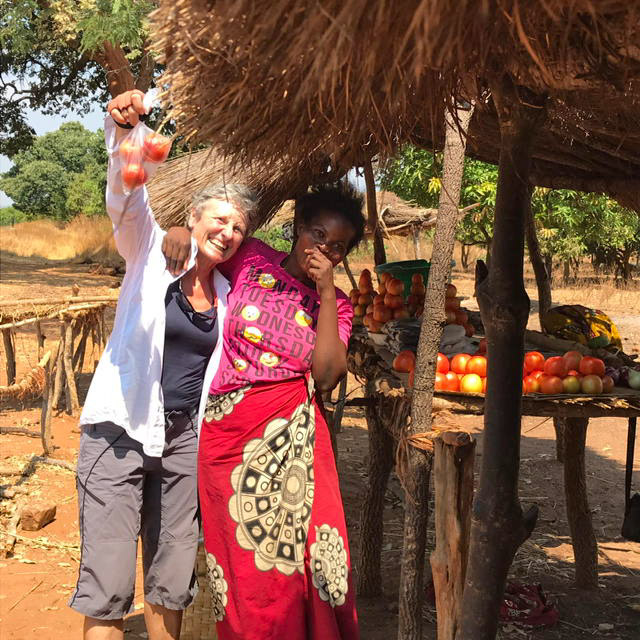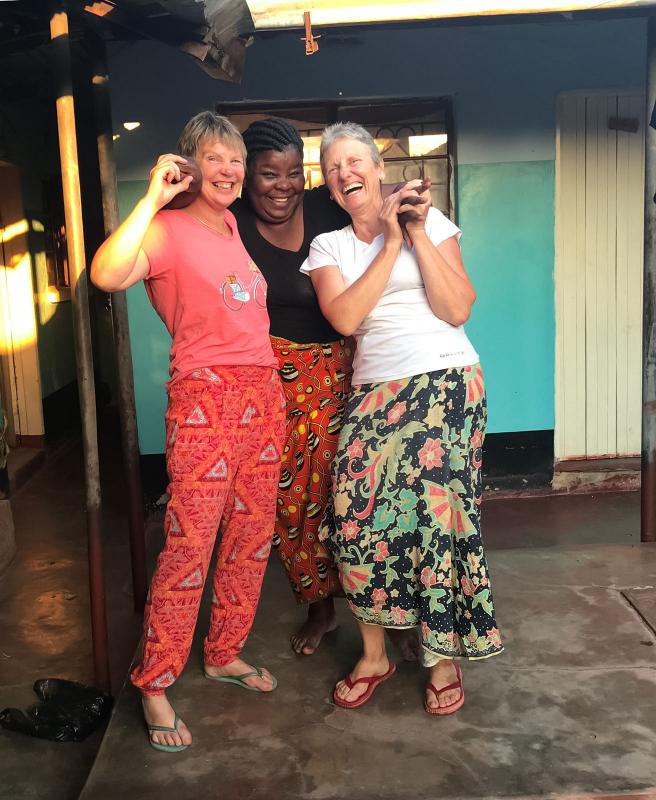 I do enjoy my own company but sometimes I miss someone to share my experiences with and being with Karen was a real treat.
Sitting having dinner in Livingstone the day before she left, we talked about our time together on the road and when and where we would be cycling together again. At that moment, our encounter with  the tse tse flies faded in the distance and was almost forgotten.