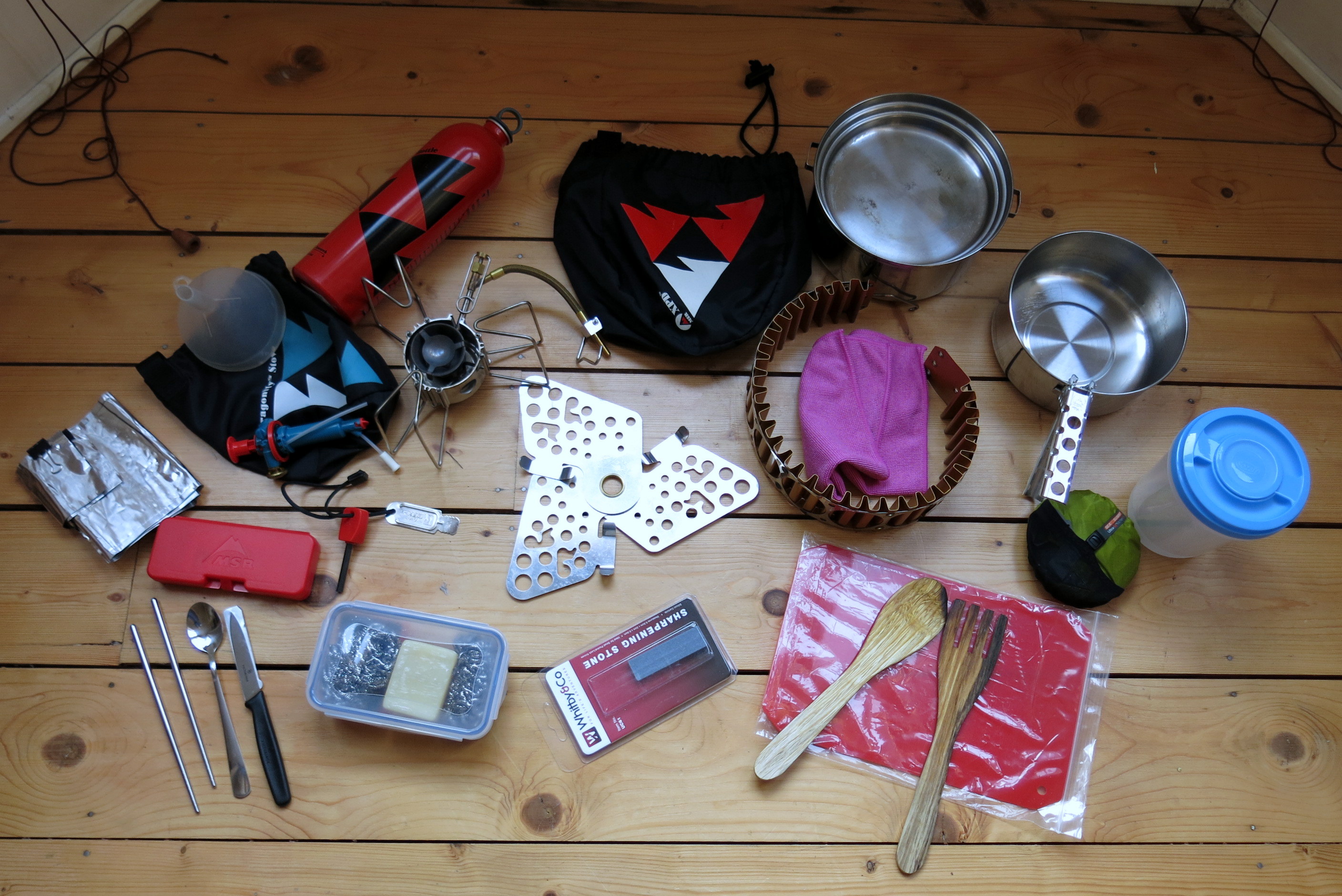 London to Far East Asia 2015 to 2017
Africa 2018
Notes
MRS Dragonfly multi fuel stove 
No change
I chose it because you can lower the heat to simmer. It is extremely noisy and at guesthouses I used to put the TV at top volume to mask the noise of the stove. Make sure you check and maintain the stove regularly. I didn't and nearly set a guesthouse on fire when I had a petrol leak!
MSR Dragonfly pump
No change
I had to change the pump twice The first time when the plastic casing broke during maintenance and the second when I had the fuel leak. Make sure you get a pump specifically for Dragonfly as the standard MSR one does not fit.
Cooking Windscreen
No change
A must
1 lt MSR Fuel bottle
No change
Plastic funnel
Will take one again
I got rid of it in Turkey but I'm taking one to filter the petrol using coffee filters
MSR Trillium Stove Base
No change
I sent it home from Istanbul and won't be taking it this time
MSR Expedition Service Kit
No change
MSR Alpine 2 pot set
MSR Stoweaway 775 ml and non stick pan
Great sturdy pots but I'm going a bit lighter this time
Pan Handle
No change
MSR Heat Exchanger
 It did make a difference in the speed the water got to boiling time but going lighter this time
Light my Fire Sweedish fire steel
Will take it again
Sent home from Istanbul but I'll give it another go
Disposable lighters
No change
Easy to get anywhere
Light my Fire titanium spork
Titan spoon
Leaving the spork and fork behind and taking only the spoon
Victorinox Kitchen knife
No Change
Fabulous knife very light and sharp
Chopsticks
No taking them this time
Wooden spoon for cooking
No change
Spanish tin opener
No change
A classic piece of kit. I've used one of these for half a century and they are still the best
MSR Titan mug
No change
I loved the mug
MSR chopping board
No change
Used it all the time. Mine is an older non folding version
Sea to Summit ultra sil kitchen sink
No change
I used it all the time to wash my clothes
Stuff to do the washing up
No change
Tea Towel
No change
A couple of plastic containers
no change
A handful of klippits
No change
Invaluable!