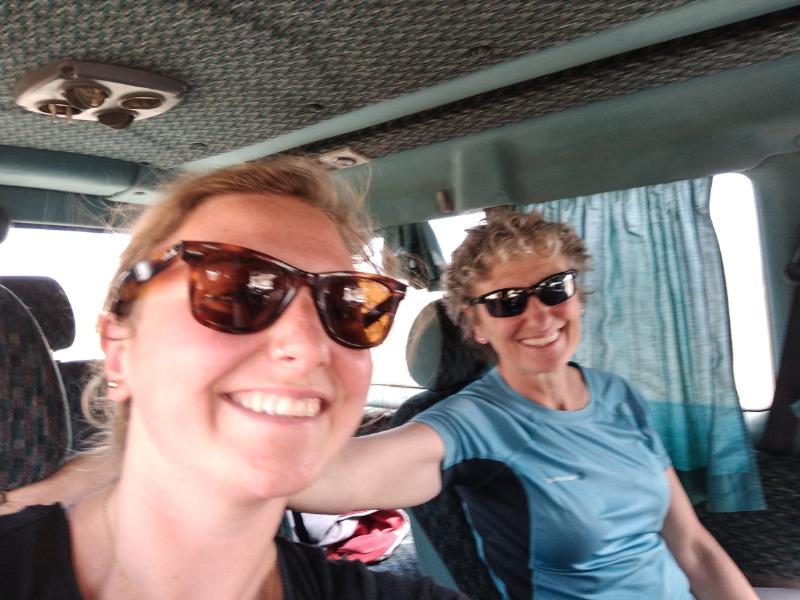 When I opened the door of my room I saw that it was raining again. It was only four in the morning and it was still dark. "The rains are early this year" that is what everybody is saying. The rains transform the paved streets of Addis into chocolate streams and the feet of countless people convert the unpaved ones into sludge. Wim's Holland House, the overlanders' hostel that had been my Addis home on and off during my time in Ethiopia, is in one of the unpaved ones.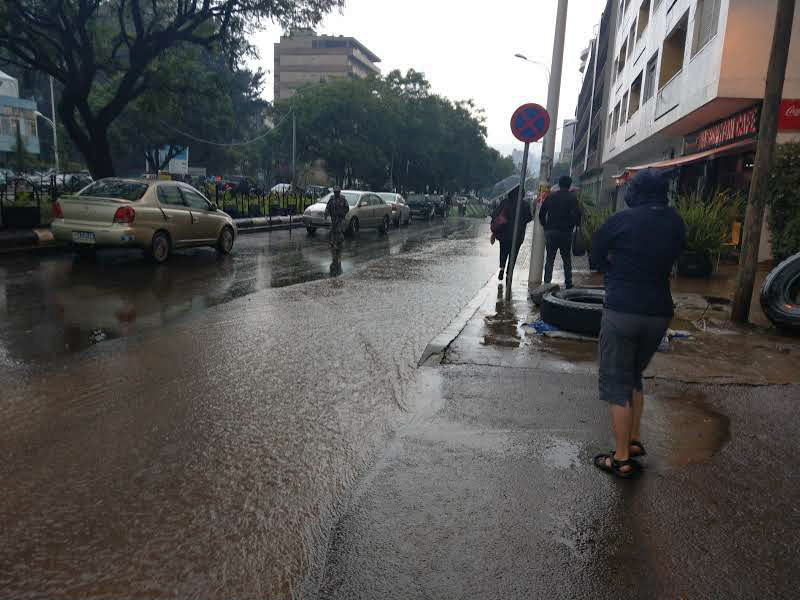 I pushed my freshly cleaned and oiled bike through the mud until I reached the paved road and rode to Meskel Square, where Foxtrot and I were to board a bus to Arba Minch, a town four hundred kilometers from the Kenyan border. From there I was planning to get local buses all the way to the border,  too scared to cycle in this country.
When I entered Ethiopia I was already feelings pretty apprehensive having read and heard accounts of other cyclists. Everybody talked about dozens of children running alongside you shouting "YOU, YOU, YOU" followed by "MONEY, MONEY, MONEY" and how some of them delighted in throwing stones at you. Tired of the harassment, the majority of cyclists end up getting buses at some point. Even those who cycle all the way through the country talk in terms of "It wasn't too bad, the stones only hit us a  couple of  times" or as Teresie, a young Norwegian I met in Khartoum told me  "It was OK, the rocks were quite small and only once a herder used his cattle whip on me as I went by. I was furious, picked up a stone and and followed him only to see that he was about to throw a huge rock at me"
All those stories were playing in my mind when I reached the border at Metema. I hadn't even crossed the border when I was approached by Ethiopian young men wanting to "help" me cross, get money and get a SIM card expecting payment for their "help" It took more than fifteen minutes of  assertively saying "No thanks" for them to get the message and leave me alone.
Not even thirty minutes later, at the ATM, another young man wanted to know whether my card had worked, whether I had Visa or Mastercard and whether he could help me get money out. I could sense how I was begining to build invisible barriers around me and how I was closing down. All it took was for a local to tell me as way of warning "don't camp in the bush in Ethiopia, you are no longer in a Muslim country" for me to realise that what I was feeling was fear and I hadn't even started to cycle.
By now I am used to having butterflies in the stomach caused by the excitement mixed with apprehension of entering a new country but I had never felt fear and I knew that unless I managed to control this emotion, it would dominate my experience of the country.
"Open your mind Blanca, open your heart" I said aloud to no one but myself as I pedalled along but however much I tried, I could feel the anxiety drying up my mouth each time I approached a  village. Predictably, I was instantly surrounded by children  shouting "YOU, YOU, YOU" followed by "MONEY, MONEY, MONEY" some of them grabbing at my panniers and although I was spared the stones, I managed to get myself into a real bad estate of mind.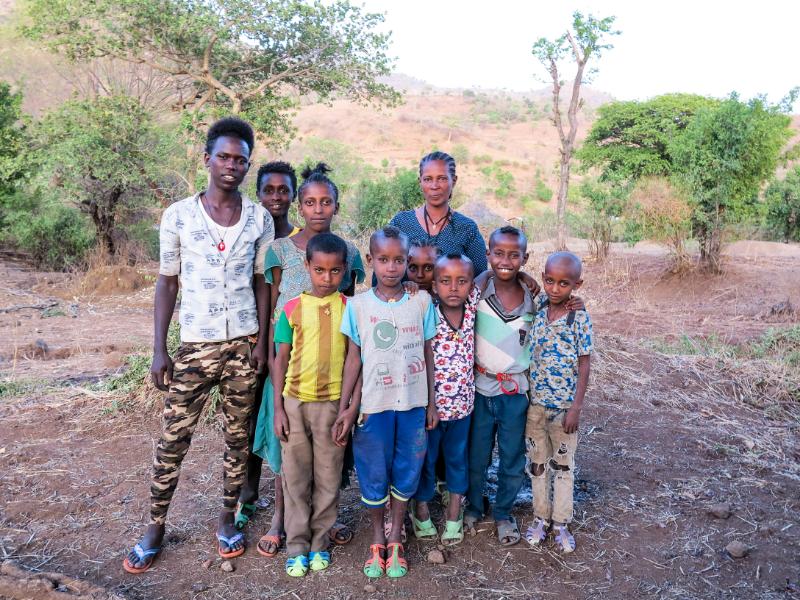 It all came to a head when on the third day I saw a group of older teenagers walking in the middle of the road. I was going downhill and decided to maintain the speed, thinking that they would get out of the way to let me pass but when I saw that they weren't going to move I pressed the brakes and one of them punched me in the arm. It didn't hurt much but the little confidence I had left just drained away there and then.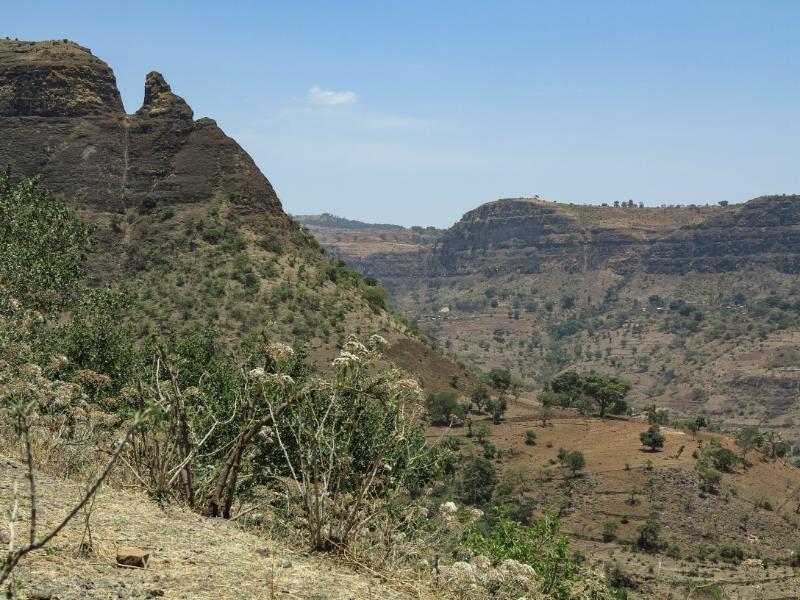 As luck would have it, two Englishmen I had met a couple of days, earlier went pass on a pick up truck and offered me a lift to the nearest big town which I  gratefully accepted.  That was the end of cycling in Ethiopia for me.
The visit of my daughter Amaya was a godsend and the perfect antidote for the blues that were setting in. Together we explored the magical chuches of  Lalibela, stood at the mouth of  a volcano, walked through solidified lava fields, saw salt caravans, looked in awe at the incredible landscape of the Danakil Depression, slept under the stars, drunk honey wine, rock-climbed to reach one of the Tigray churches, trekked in the Simien mountains, explored local markets and talked  non stop.  I felt bereft when I saw her disappearing riding on the back of a motorbike on her way to the airport.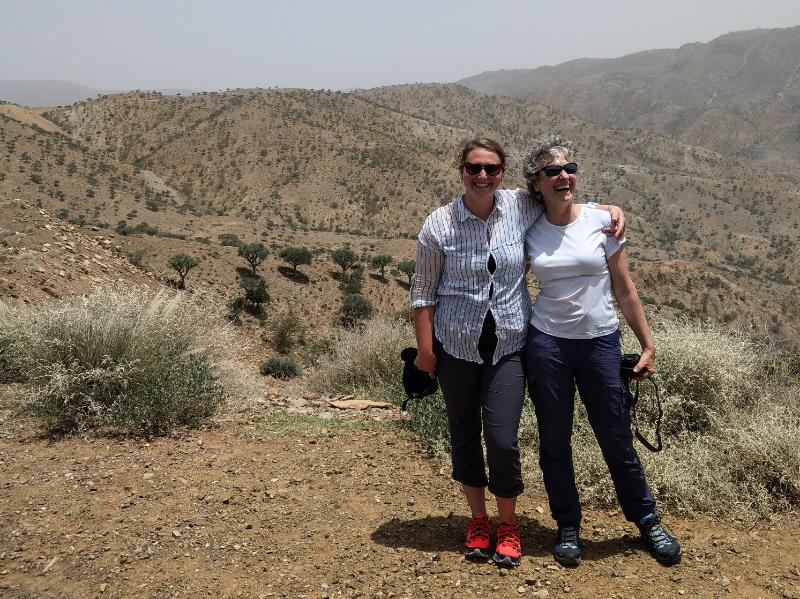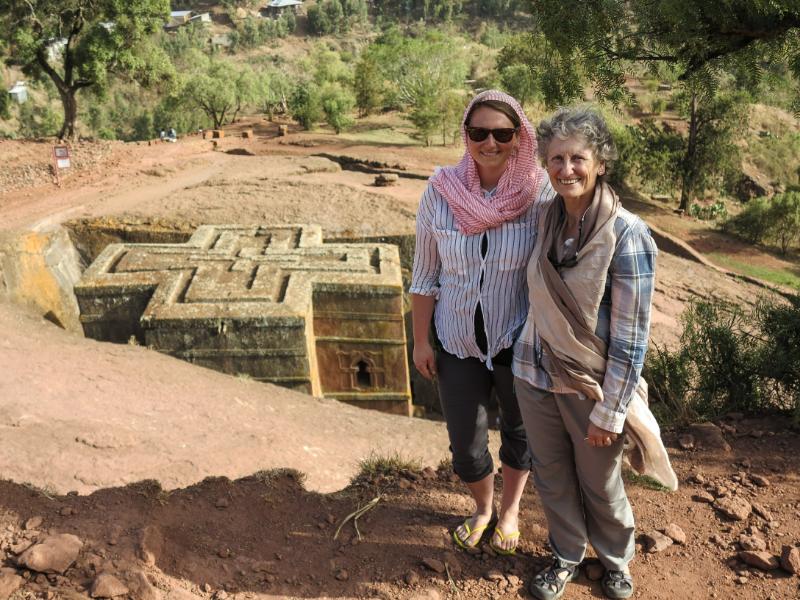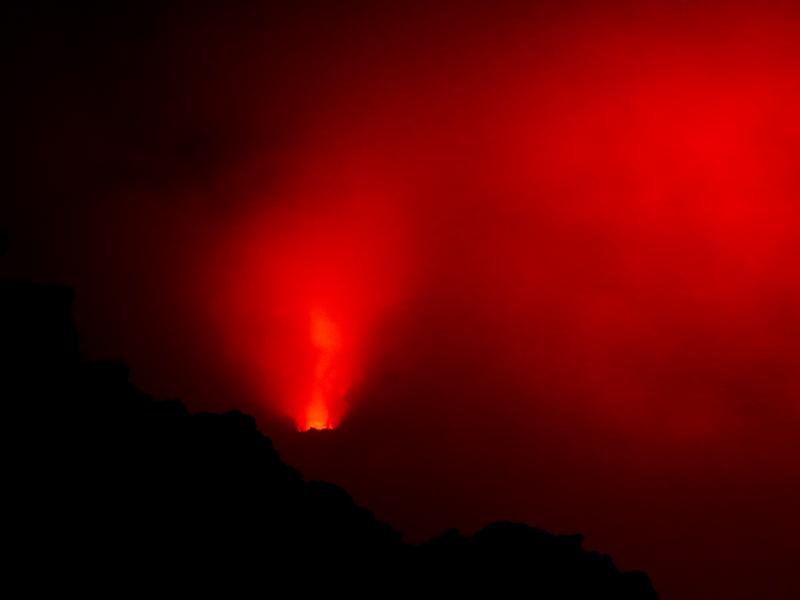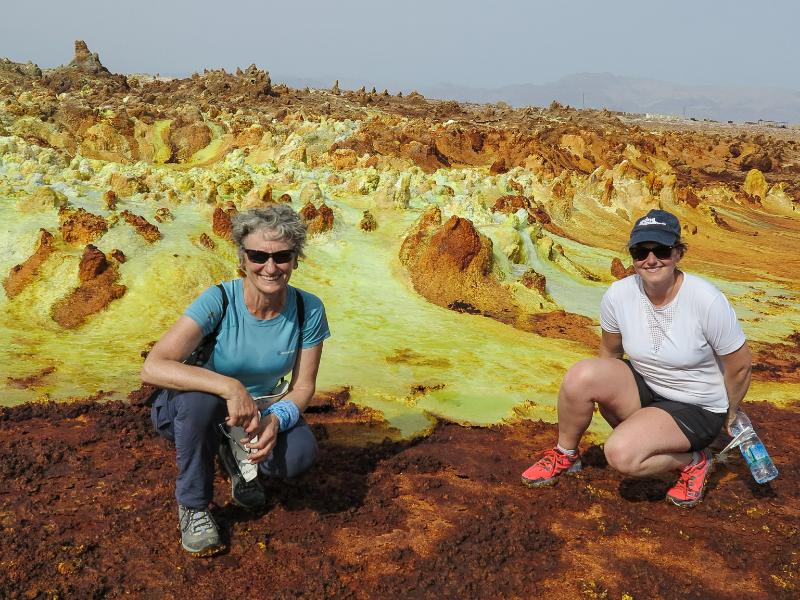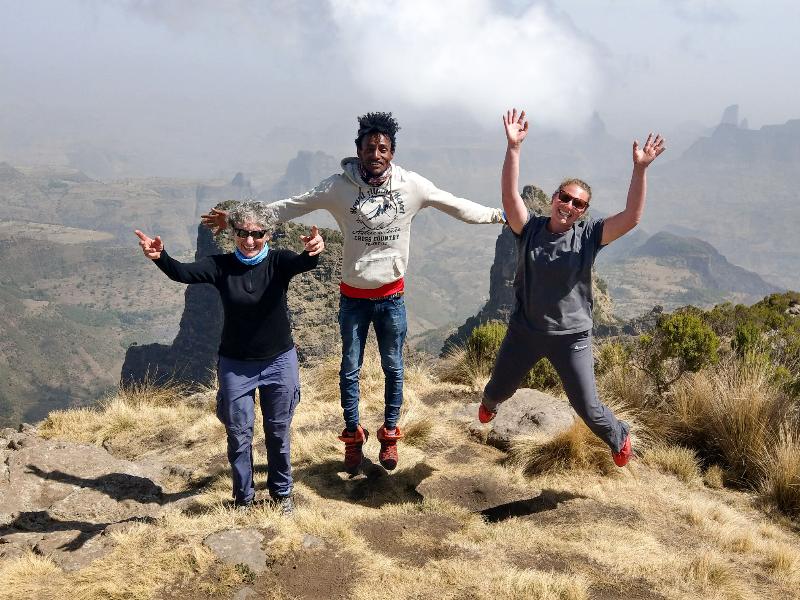 Alone again I decided to explore Harar, a Muslim city in the East of the country, closed to the border with Somalia. It was comforting hearing the call to prayer once more and walking the narrow streets of the walled city.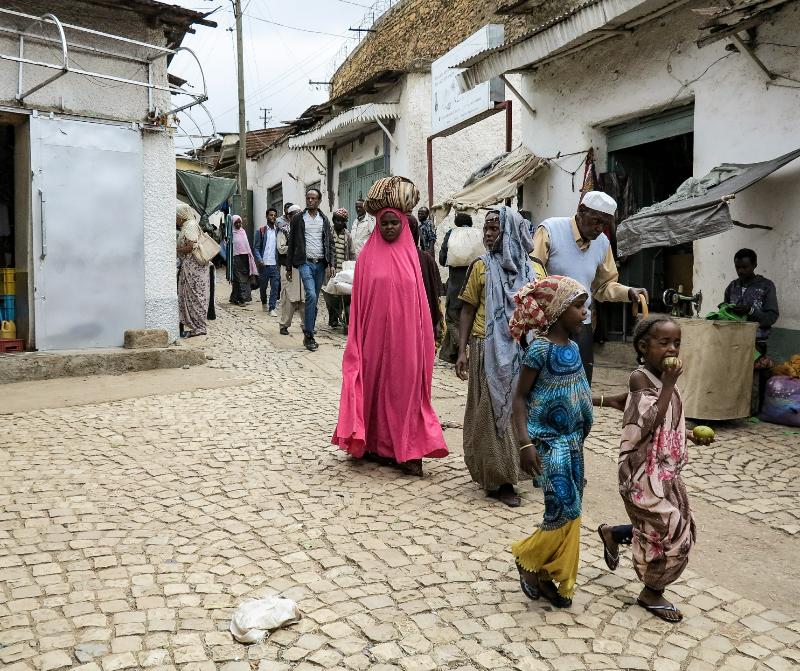 In Harar they feed the hyenas at night outside the walls of the Old City. According to the locals, they started feeding the hyenas during a 19th-century famine, when the starving animals began to attack livestock and humans and the practice continues until today.
In the dark I took a bajaj (tuk tuk) with Sisay, a local guide, and through bumpy dirt roads we went in search of the hyena man. We found him sitting in a stone with a basket of meat and bones at this side and over dozen hyenas walking around him. The man was whistling and making throaty sounds to get the animals closer. I sat on a rock next to him and he dangled a piece of meat just above my head. One of the hyenas used me as a prop to get to the meat. I could hear the wet chewing of the animal just by my ear,  feel her hot breath on my face and smell her foul breath. It was both scary and exiliariting, a unique experience.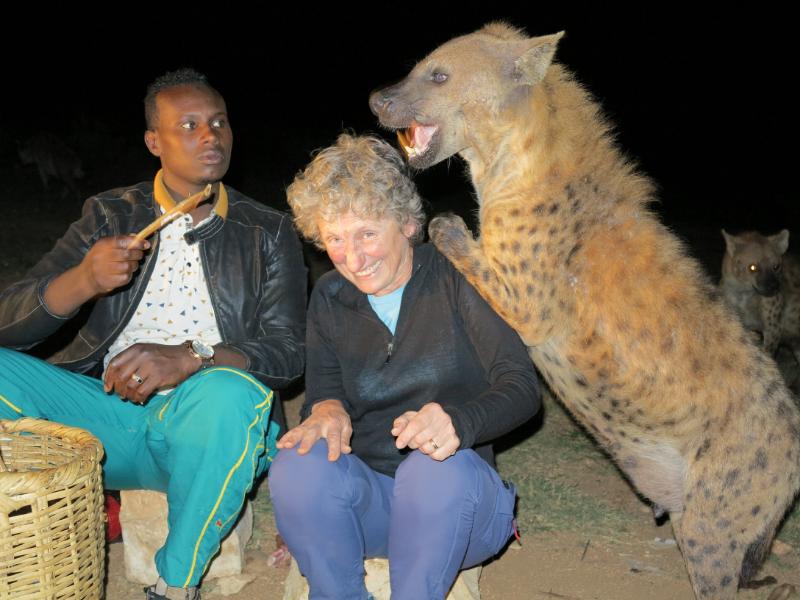 It was in Harar where I met Mengistu, an orthopedic surgeon who had studied for 14 years in Cuba and thus spoke perfect Spanish. When I arrived at his house he opened the door with a big smile in his face. Mengistu is one of those rare young professionals who has returned to work in Ethiopia to contribute to improve the situation of ordinary people in the country whilst a lot of his friends stayed abroad working all over the world as anything but doctors.
Mengistu's wife, Magaris, made coffee,  my first coffee ceremony in Ethiopia, the coffee slowly roasted over red charcoal and then pounder with a pestle and morter before being brewed in one of the special Ethiopian coffee pots.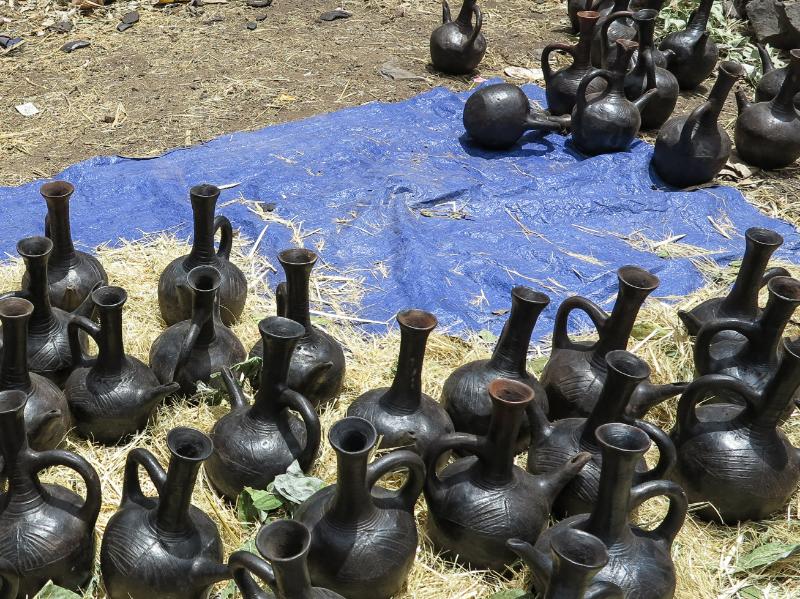 I wish I had been able to meet more people like Mengistu and Magaris, maybe if that had been the case my experience of Ethiopia would have been very different. As was, I found it a challenging country, I got very tired of the constant hassle, of people's rudness and aggression, of being overcharged (in a disproportionate way), of the harrassment everywhere I went.
And yet, when I got to Arba Minch I changed my mind and decided I  wanted to cycle the last few days in the country. I took a couple of buses from Arba Minch to a town called Yabelo to get closer to the Kenyan border and then started cycling. I was enjoying the ride but as it was getting late and I had run out of water  I decided to stop a vehicle to get to the nearest town, a place called Mega. A minibus stopped and the driver told me that he was driving all the way to the Kenyan border. I couldn't resist the temptation and there and then  I decided I would stay on and go to the border.
When I sat on the crowded minibus I was overcome by a sense of relief and a lightness of heart that I hadn't felt in weeks, a smile filled my face and I felt happy. I was leaving Ethiopia!