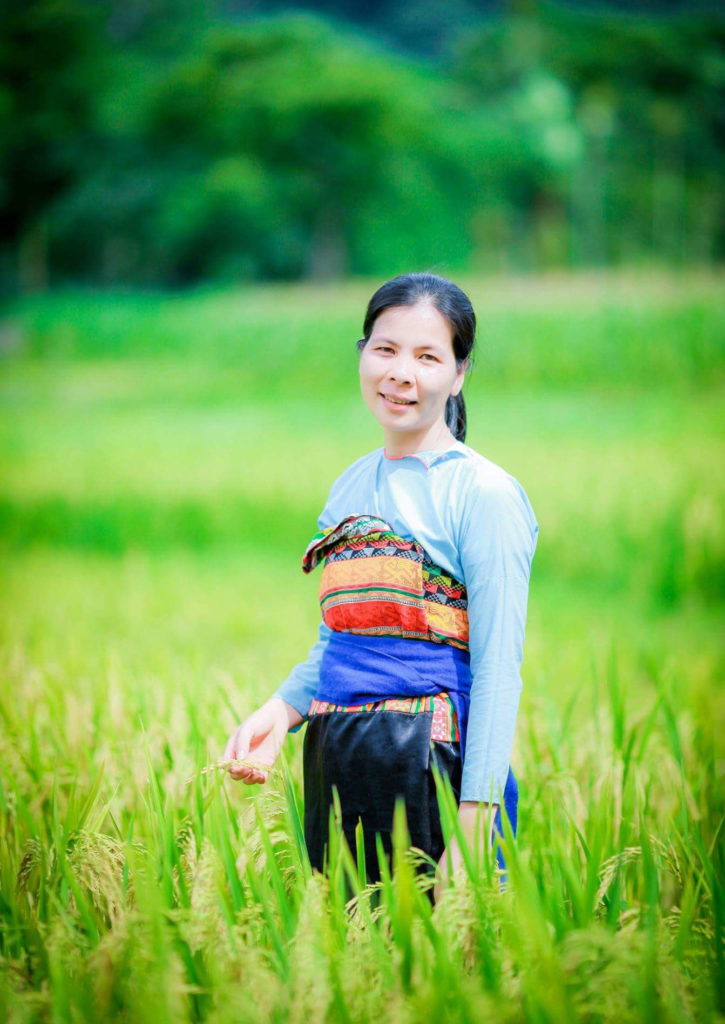 My time in Vietnam started in Hanoi.  I settled myself in a hostel in the old town whilst waiting for my friend Kath who was to join me for a couple of weeks. The day was grey and as I stood in a corner of the Old Town I watched in disbelief the chaos around me: hundreds and hundreds of scooters going in every direction hooting incessantly, street sellers in their conical hats shouting to attract customers, colourful stalls full of Tet (Vietnamese New Year) merchandise,  people walking, looking at the stalls and shopping in preparation for the Tet celebrations, cafés, eateries…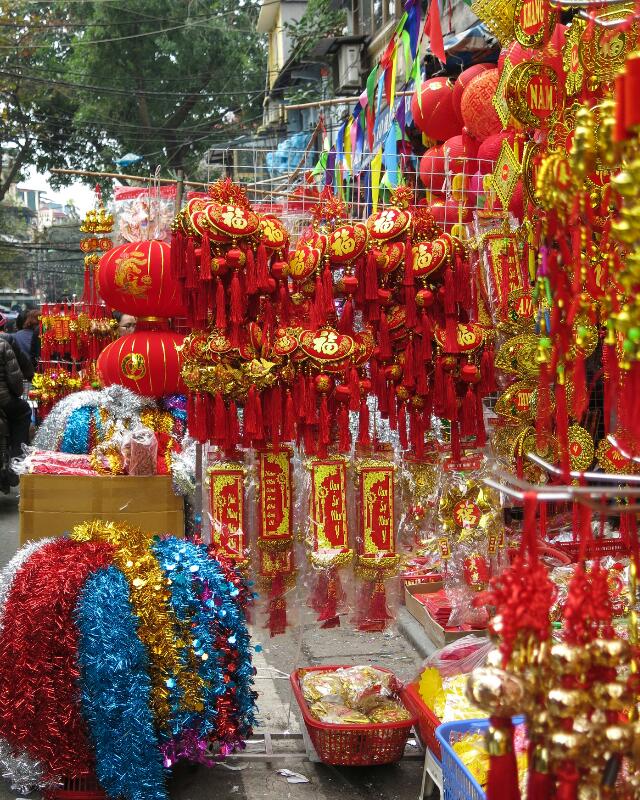 Walking at dusk around Hoan Kim Lake, a famous lake in the centre of town,  were a sacred turtle used to live, I  thought of my daughter Emma who lived in Vietnam for a year and how she would have walked around the same lake  and seen the same sights 12 years earlier and all of a sudden I felt really close to her.
I was getting impatient about seeing my friend Kath. On the day of her arrival I sat in the hostel with my eyes peeled in the glass doors looking for the car that was bringing her and Jitterbug, her trekking trike, from the airport.  I couldn't wait to see her face and her smile and then she was there and we hugged and it was as if we had seen one another only a few days before.
Many people would have felt defeated by the challenges life had put in the way of Kath, breast cancer and debilitating osteoporosis that lead to a series of bone breaks and surgeries and the possibility of never walking again. But Kath is no ordinary woman, looking into her eyes I could see her indomitable spirit coming through, the utter determination not to let her injuries get in the way of her dreams. She was always passionate about riding her bike and as she is unable to ride a 'normal' bike anymore because of the risk of falling and more bone breaks, she got Jitterbug and the two of them were thirsty for adventure.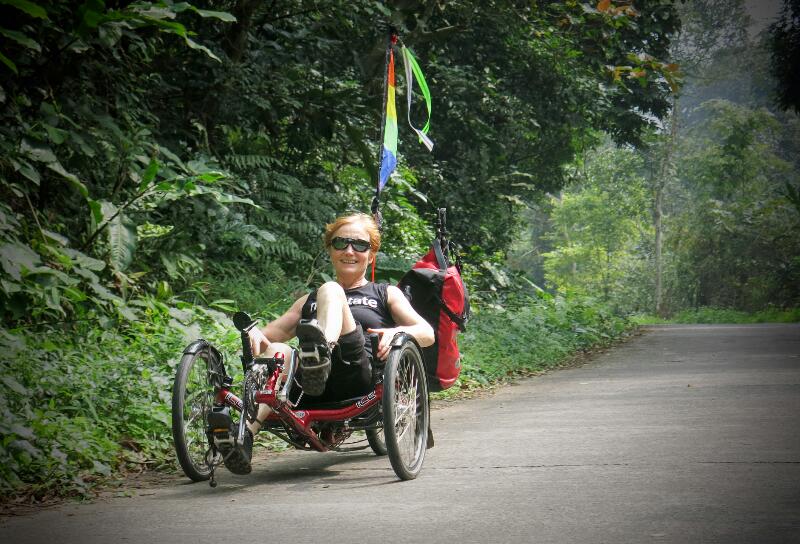 We talked and talked, we had so much to catch up on. I got news about her daughters and family, our common friends and inevitably her work and how it is pretty much taking over her life. As the director of Women into Construction, she has made the organisation a success, but it has become a trap and keeps demanding more and more of her. Listening to her,  I was glad to be out of that trap, to be on this journey of discovery on my bike which is why I was surprised to feel something akin to regret at not being part of that 'productive' world anymore.  I have never been happier, the best of me comes out when I'm outdoors and on the move and yet ingrained in me must be this idea that I'm not being 'productive'
We decided to go to the famous Ha Long Bai. Amidst crazy traffic we crossed Long Bien Bridge, an honour and a pleasure to cross the dilapidated bridge heavily bombarded during the Vietnam war and a symbol of the tenacity and resilience of the Hanoian people.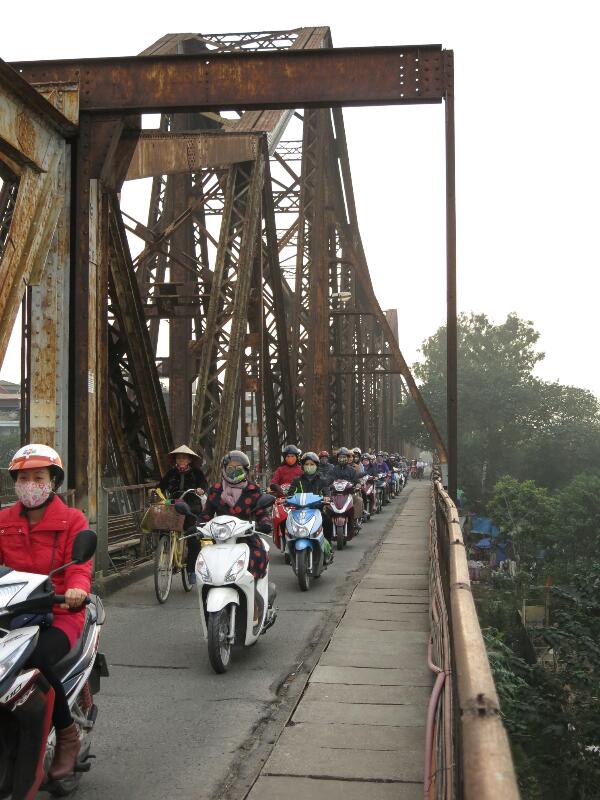 For three days we cycled through the industrial heartland of Vietnam, dust and continuous hooting as our constant companions; through my rear view mirror I could see Kath relishing the ride in spite of the ugliness of our surroundings. In the evenings we found cheap guesthouses where we cooked our meals and made sure everything was out of reach of the rats that as big as cats were roaming around.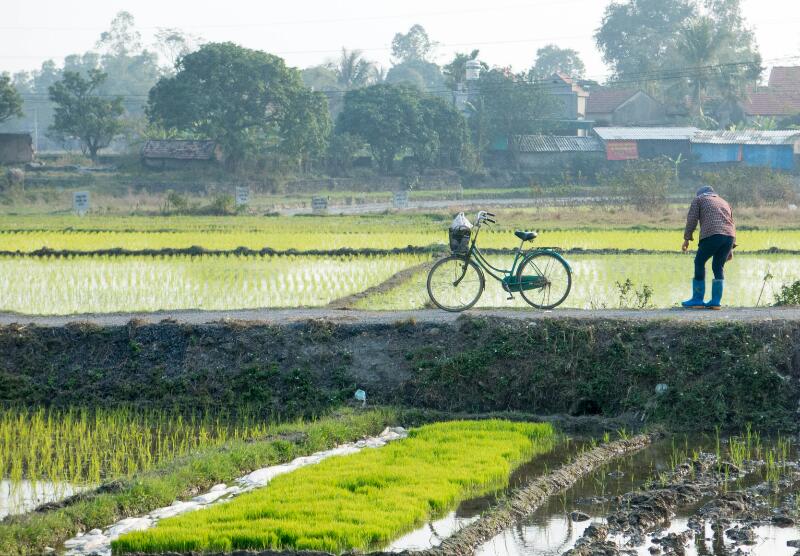 Everyone was enthralled by Jitterbug, they thought it was hilarious, laughter and finger pointing greeted Kath everywhere. In a country where the bike has been the mode of transport until relatively recently, Jitterbug was a magnet and anytime we stopped Kath was surrounded by people wanting to have a go on it.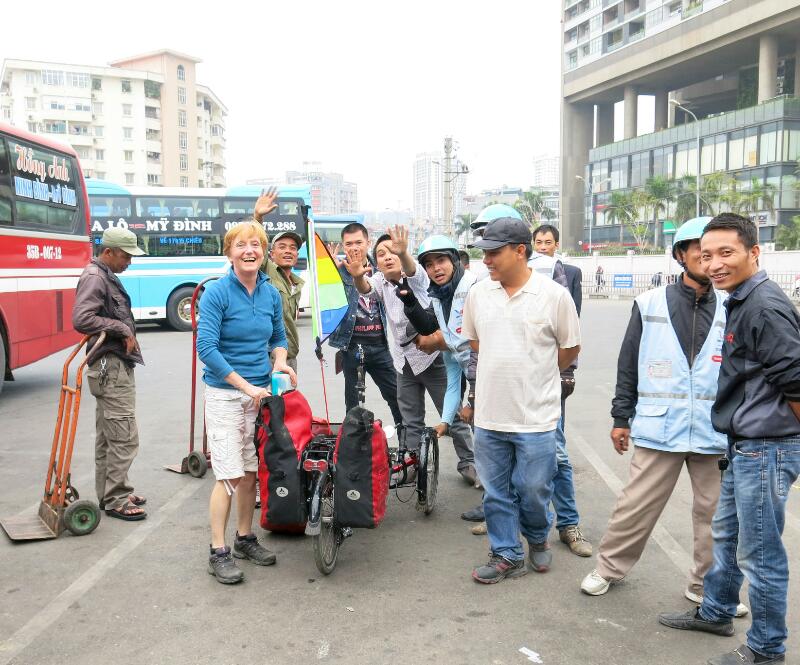 It was exciting to finally be on the local boat that would take us to Cat Ba Island. The boat sailed through the most amazing of landscapes, karst tower after karst tower raising out of the sea. The ride with no traffic across the island amidst limestone formations and forests in the falling light of the evening was breathtaking.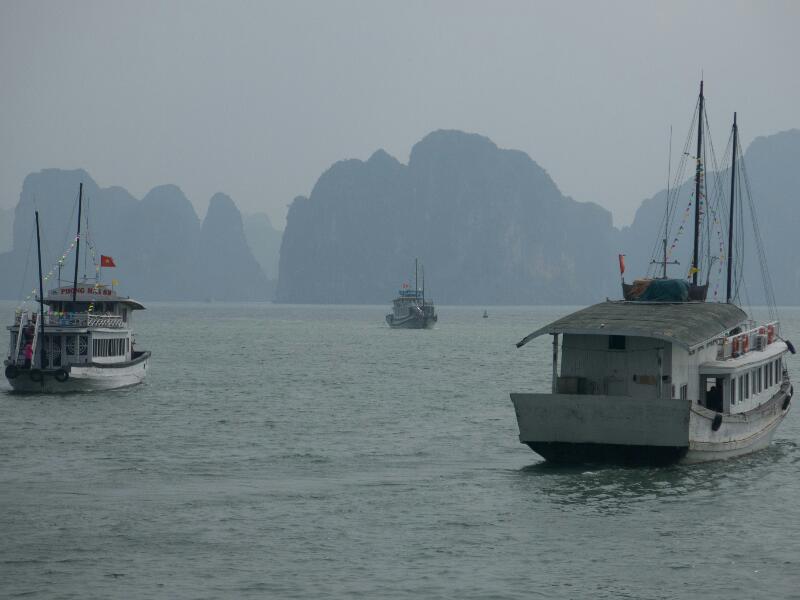 Kath treated me to a wonderful birthday present: two days in the water, sleeping in a floating homestay. We swam, kayaked, climbed to the top of local mountains in the national park. Kath used her walking poles for extra security any time she was off her trike. The terrain was not easy but her smile was radiant. A water baby she couldn't resist going in the water at night, with her movements thousands of little stars created by the bioluminescenct plankton surrounded her body and she laughed.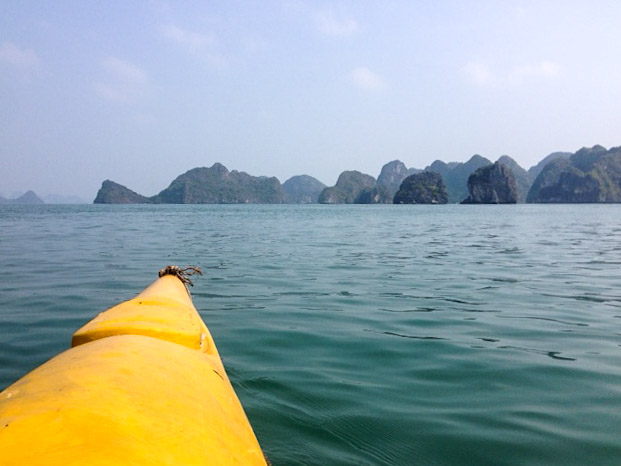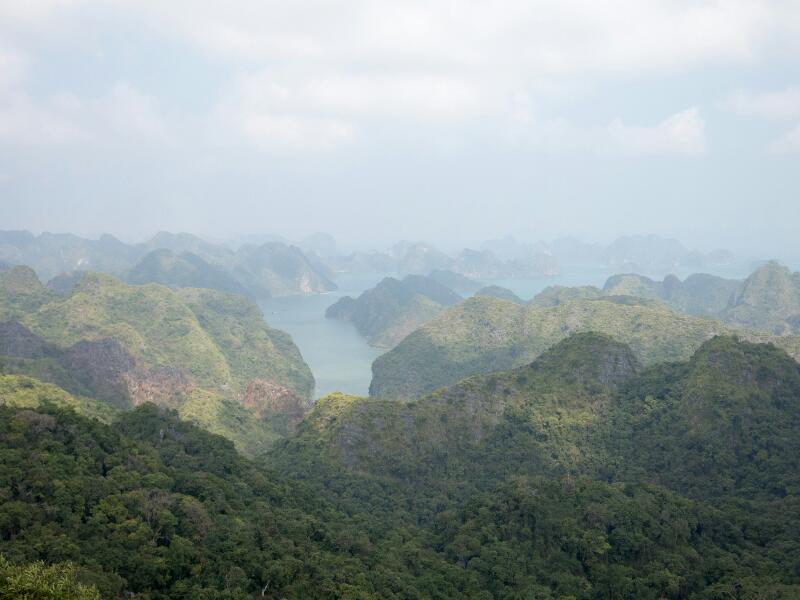 Back in the island we celebrated Tet, the Vietnamese new year and my second new year celebration in less than two months. What followed were interesting bus rides, camping in National Parks, big climbs on our bikes and then, sadly,  it was time to say goodbye to my strong travel companion and slowly make my way South.
Meeting strong women became a constant during my time in Vietnam. At the time I didn't know that would be the case although I should have gleaned it from my visit to the Women's Museum in Hanoi.
I left Hanoi following the Ho Chi Min highway. The Highway is not to be confused with the Ho Chi Min Trail although some parts of both coincide. The Highway runs the lenght of the country along the mountainous spine of Vietnam, known as the Trường Sơn Range. For much of it the road is well paved and very rideable whilst the bulk of the legendary Trail is in Laos. The Ho Chi Min Trail is an endless number of backwater paths and trails that started near Hanoi and ended near Saigon (today's Ho Chi Minh City) where it deposited weapons into the hands of the communist guerrillas fighting against US and Southern Vietnamese force. Despite intense aerial bombing the weapon caravans continued for years, and gave the Vietcong the means to continue the fight and eventually overcome the south's resistance.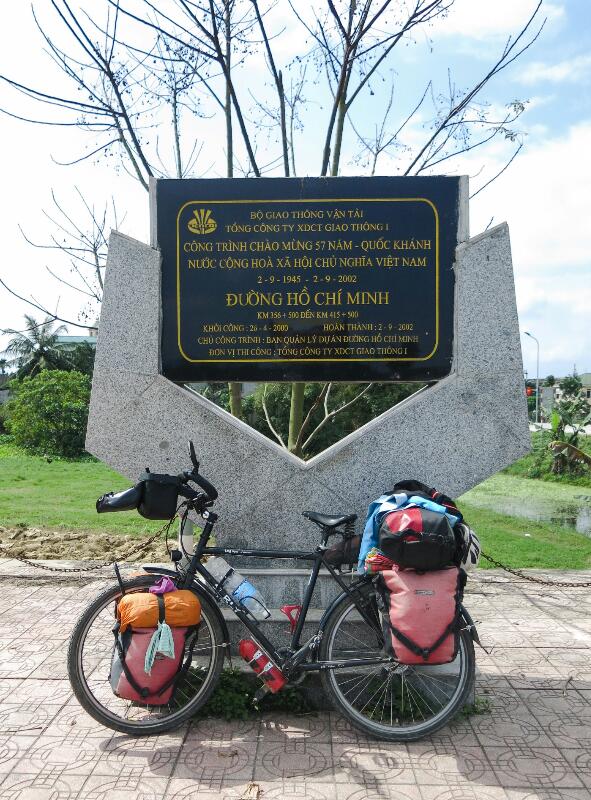 Several of my daughter's friends from her time in Vietnam lived in villages off the Ho Chi Min Highway and I plotted my route to be able to meet them.
The road couldn't have been more different than the industrial areas I had crossed with Kath. This time I was cycling though a rural and verdant landscape of rice fields and crossing small towns and villages to my first destination Van Dinh, where I was going to meet Hien. All I had was her mobile number and all I was told was 'get to Van Dinh'. I expected a village and was surprised to find out that it was a small town. How am I going to find this woman? I thought. Asking was the only way so I walked  into one of the many  small  phone repair shops that can be found every in Vietnam and using sign language shop I asked the owners whether they could call the number I had. Hien answered, came to the shop on her motorbike and following small roads she guided me to her village and the house in the middle of the fields where she lived.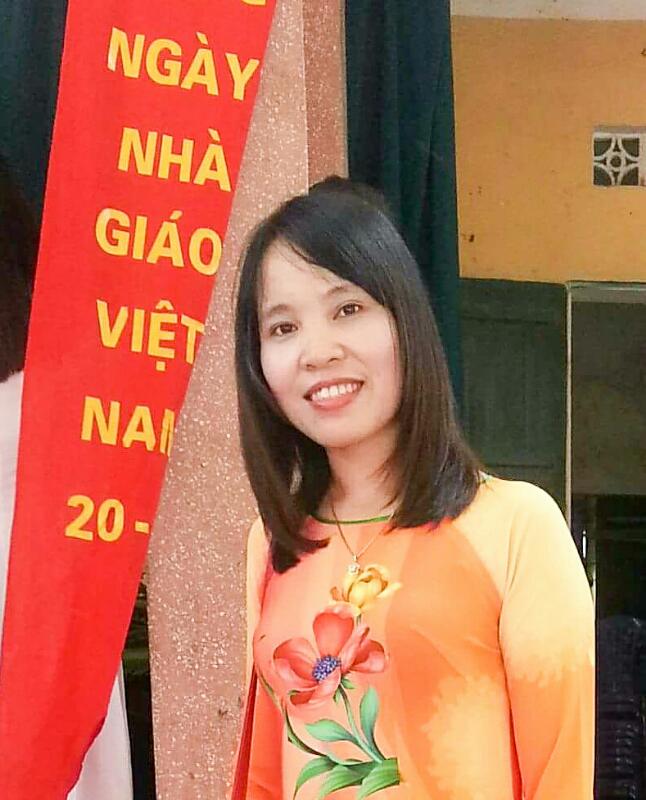 Like many women in Vietnam, Hien a strong, well grounded young woman,  lives a fairly traditional lifestyle still based on Confucian patriarchal values. After marriage she joined her husband's family household and works as a teacher in the nearby town. She shows upmost respect to her in laws, in particular her mother in law whom the calls mother.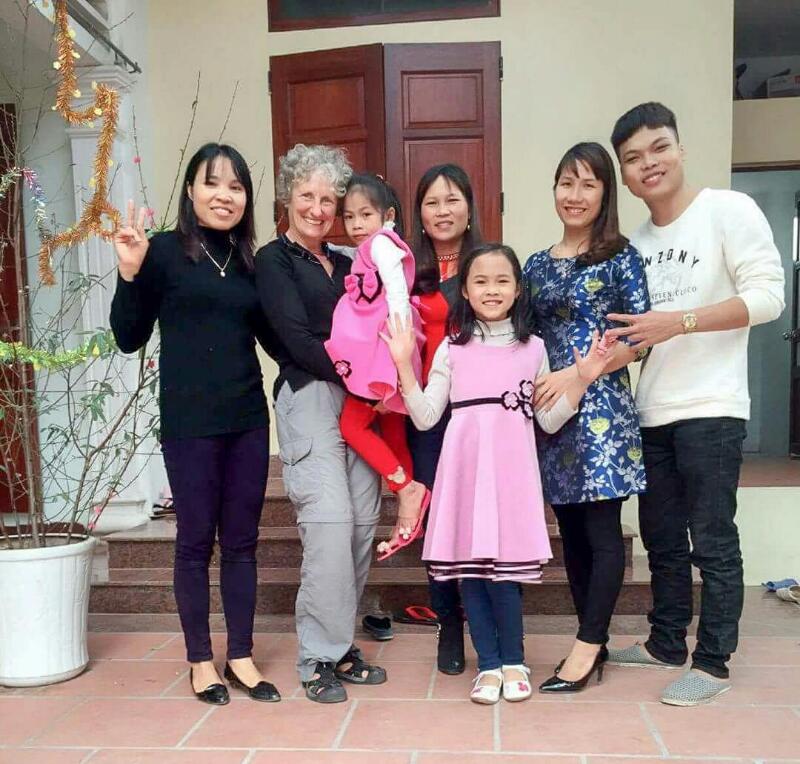 It was festival time in her village and early in the morning I dressed up in traditional Vietnamese costume, the Ao Dai, to walk the streets of the village with other older women and take offers to the Temple. Our offers joined all sort of other offerings in big long tables placed at the Temple's entrance. All gifts had a little card with the name of the donor in a very public display of generosity.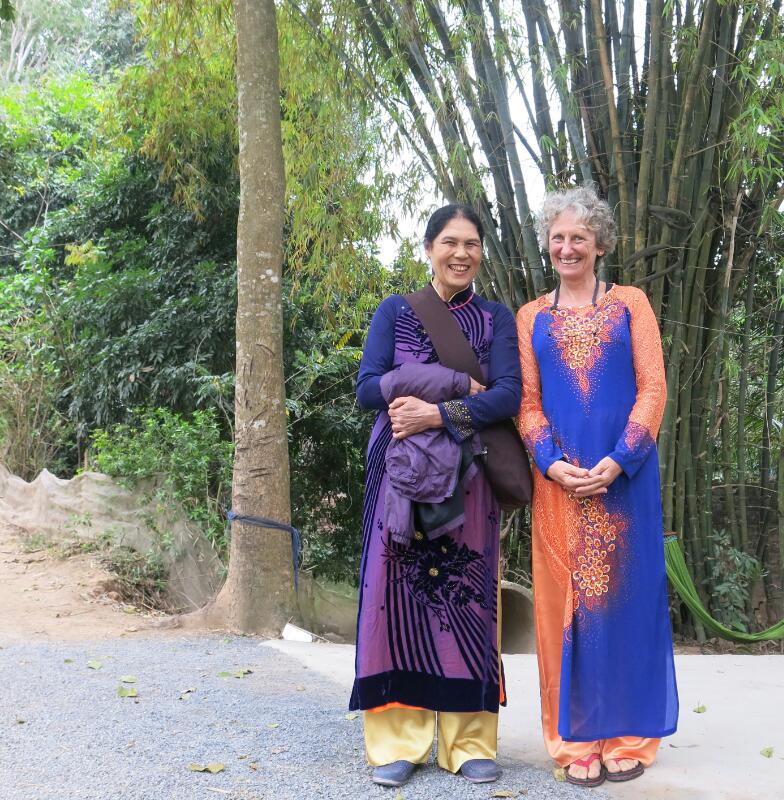 A concert in the local pond and some hilarious games followed. Imagine some flightless ducks being released in a deep pond and youth jumping in the water furiously trying to catch the ducks! I was in stitches.
I left Hien, the dignified daughter in law, wife and mother that her community expected  thankful for her hospitality and the chance to have had a small window into Vietnamese traditional family life.
I continued down the Highway to find the village where Nghia, one of Emma's closest friends in Vietnam lived. I had heard so much about her over the years that it was emotional to meet her at last.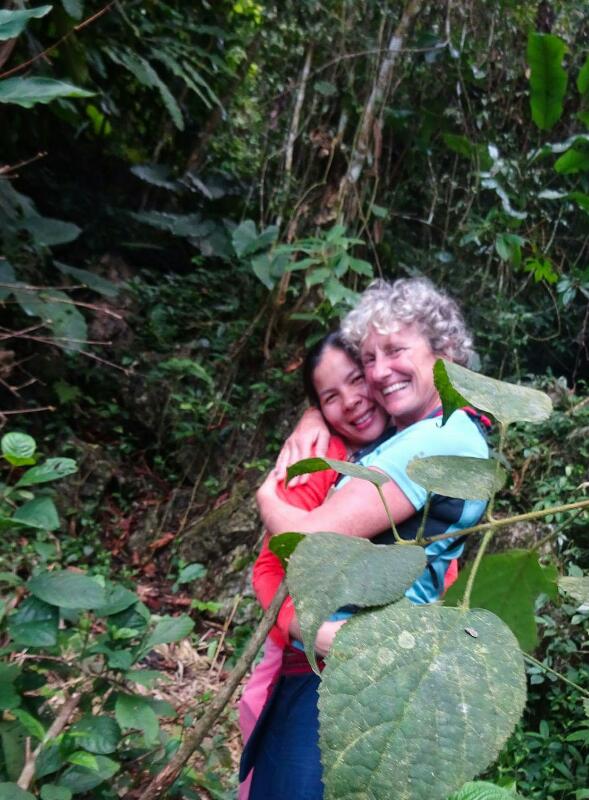 Nghia is also a teacher. Her and her husband are building a house in a plot of land with a mountain covered in deep forests, a truly beautiful environment. Slowly they are making their dream come true. They want to have a small self sufficient farm with chickens, goats, pigs, a pond with fish, a vegetable garden, fruit trees and eventually space to welcome in travellers.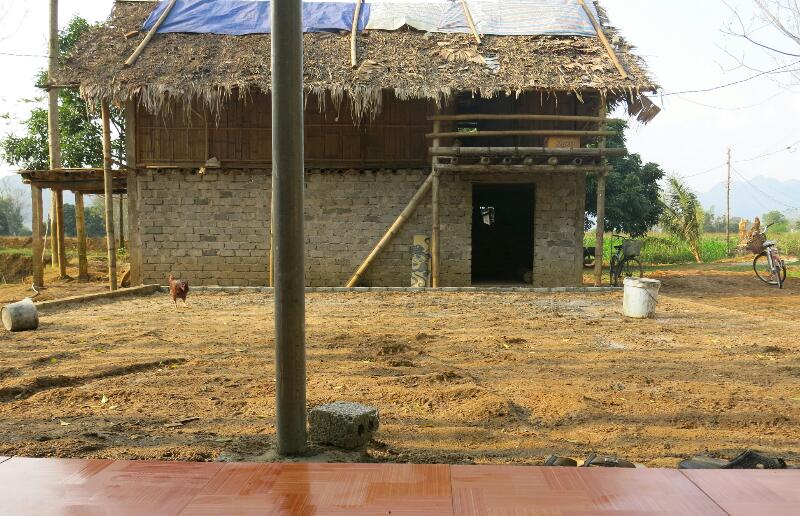 Nghia does not live with her in laws, she has moved away from this tradition by living just with her husband and her son. Although we didn´t talk much about it I am sure that doing this was not without difficulty.
Vietnamese are very gregarious people, in the streets you alway see groups of people together and when you look inside houses there always seem to be a crowd of people sitting round a matt on the floor eatig and it was not exception at Nghia´s. She is a very popular woman, everybody in the village and beyond knows her and although her house is a bit far from the body of the village,  it was always full of people coming and going, having tea, coffee, food… It was wonderful to be surrounded by the laughter and conversation that  filled the place.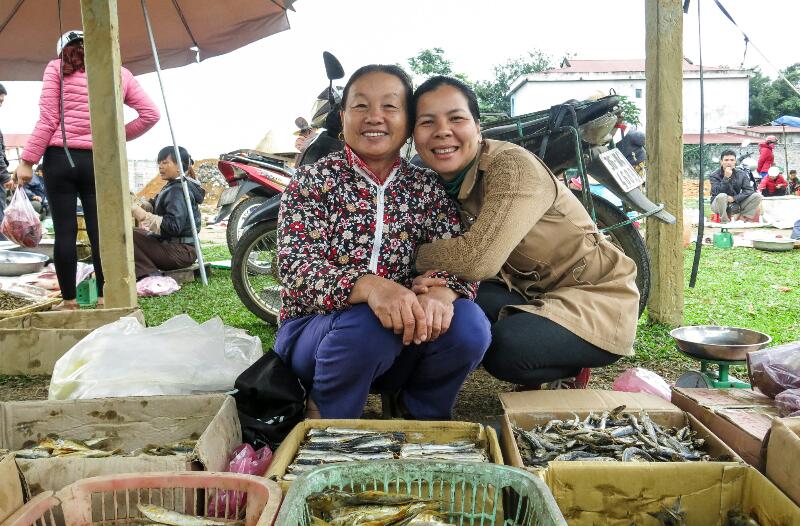 Nghia  works non stop, at home washing, cooking and cleaning, at school preparing lessons, teaching, marking school papers. She takes care of her son and husband, tends  to her vegetable garden, feeds the animals, nurses sick puppies, welcomes visitors. Nghia, like so many other women around the world who bear a heavier load than men in balancing work and family, puts a lot of pressure in herself and feels that what she does is not good enough.
I had a great time staying with Nghia, going to the local market where a multitude of people stopped to talk to her, visiting her school, going to the local pagoda and some beautiful caves, climbing the mountain in her land, but most of all I enjoyed her love and hospitality. When we parted we had tears in our eyes and I felt blessed to have met such an special, driven young woman making her dreams for a better life for her and her family a reality.
The ride to Thuy and Nam, the last of Emma´s friends I was going to stay with took me through rice fields nesttled in between huge limestone formations covered in thick jungle. Peasants were busy in the fields planting and feeding the rice that will feed them all year round.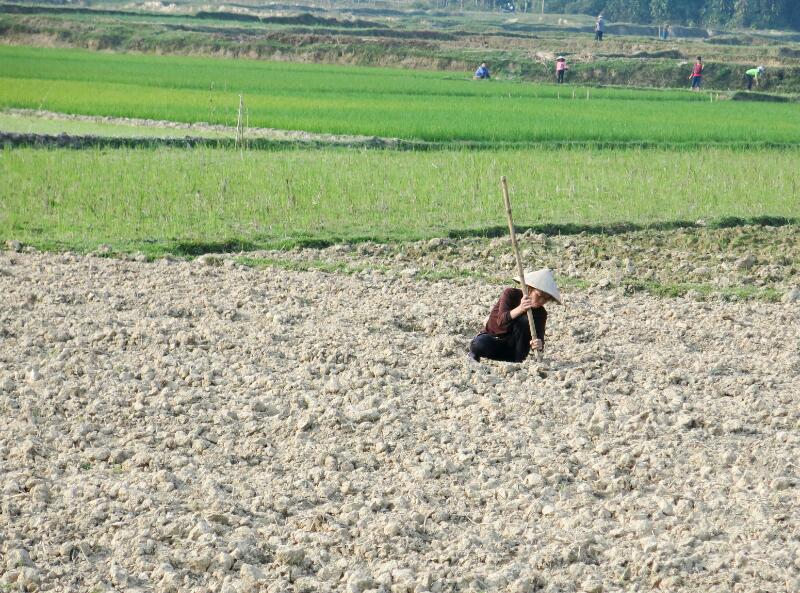 The difference between Thuy and Hien and Nghia could not have been more stark. Here was ´modern´ Vietnam – white car, high heels, fitted red coat, hair cut in a bob and all the stresses of ´modern´life too. Both Thuy and her husband are teachers and also part owners of a company that manufactures bamboo chopsticks and bamboo paper. They share their life between their home in the town and rooms in the company. Thuy has two phones that are riging constantly bringing company´s problems and issues to be resolved, the pressure of the responsibility is etched in her face together with her determination to make the business a success.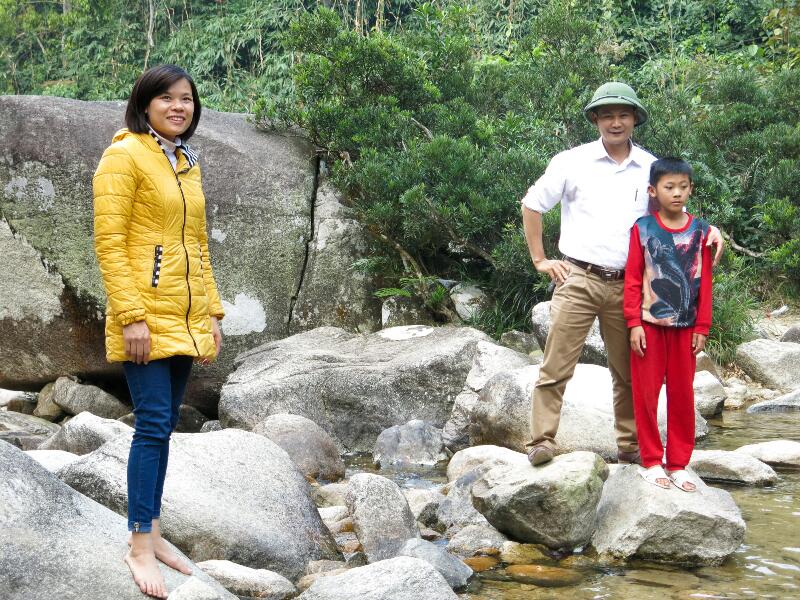 Seeing Thuy and Nam take and collect  their children to school and nursery, run to their company headquarters at lunch time to check everything was running smoothly, going back home to collect blankets and clothes to spend the night in the company reminded me of the days when my daughters were young and the constant balancing act and stress of being a parent and a full time worker.
In spite of being so busy, they welcomed me with open arms and even found time to take me to a nearby waterfall driving through beautiful bamboo forests dotted with houses on stilts with palm roofs.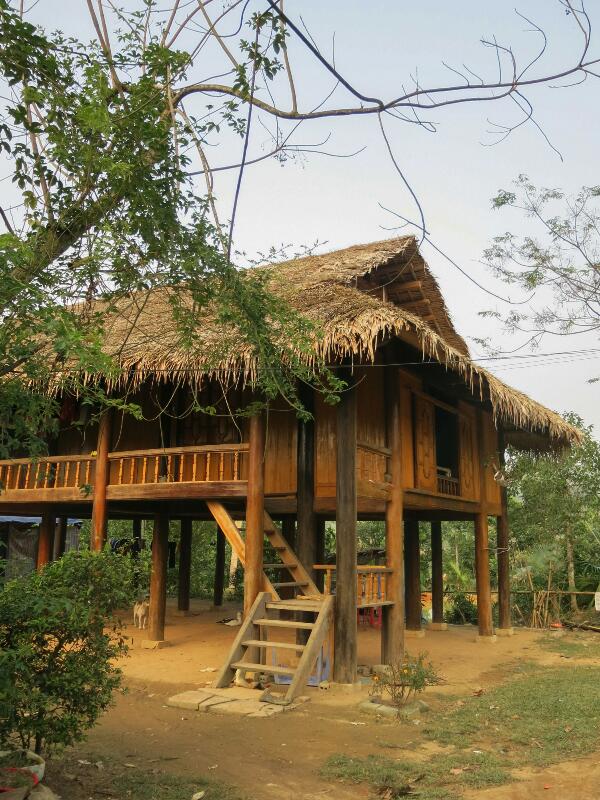 After I left Thuy and Nam and as I continued down the Ho Chi Min Highway on my way to Phong Nha to visit some famous caves I  thought about how in spite of the difference in the lives of those three young women, they also had a lot in common –  their strenght, their strong desire to improve their lives and how very hard they worked for it.
The highway went up and down, to the west the Trường Sơn Range and Laos. As I rode along it so much hit my senses at once that I didn't know where to look –  the villages, the emerald green paddy fields, tea plantations, Christian churches, buffaloes, the scooters carrying anything and everything from pigs, wood, grass, cages full of ducklings and chicks to other scooters and even a full size chest freezer. I loved the cows too. One day I had stopped for lunch by the side of the road when I heard a lorry hooting loudly to some cows that were in the middle of the road, the animals looked lazily at the lorry and didn't move so amongst much hooting the lorry had to stop. I laughed – Cows 1 – Lorry 0!!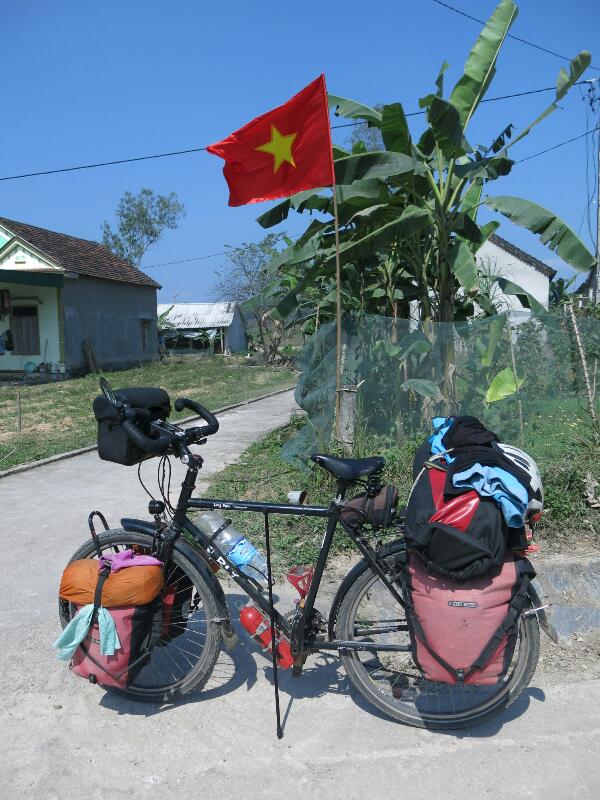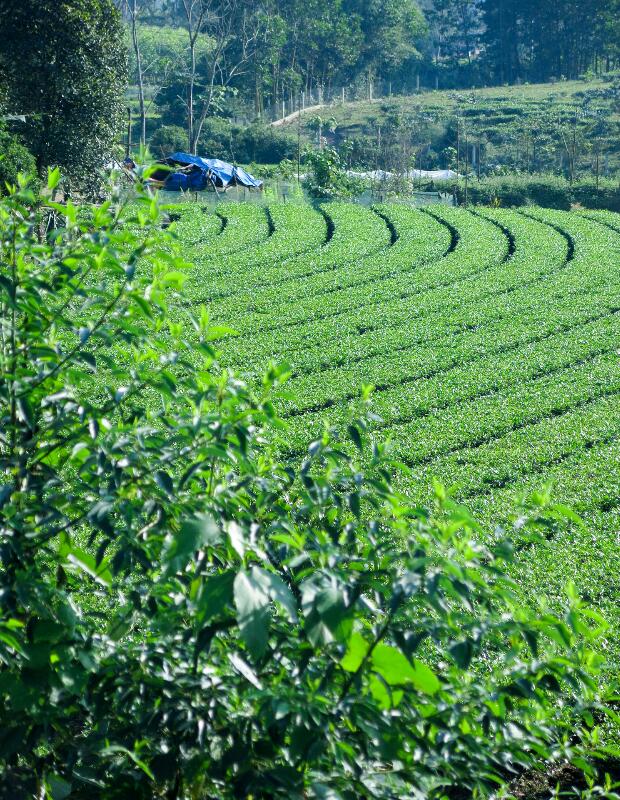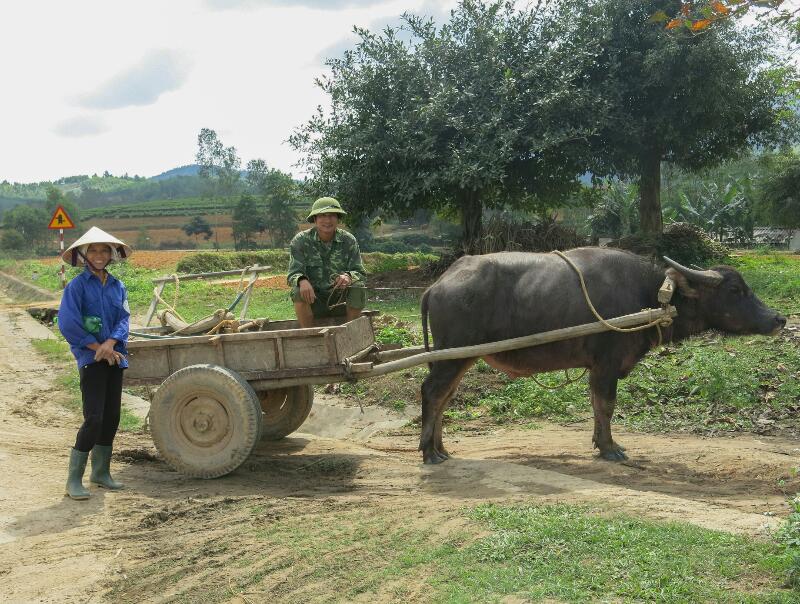 Slowly I arrived in Phong Nha located in the central section of the highway. Forests and caves made it the perfect place to stop for a few days with Jace and Ana also cycling in this part of the world.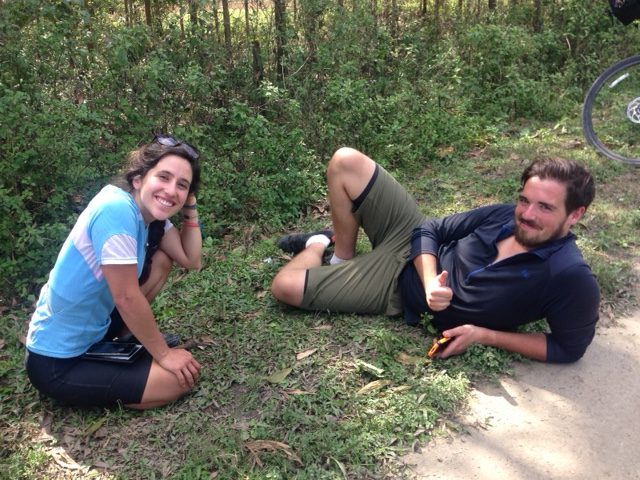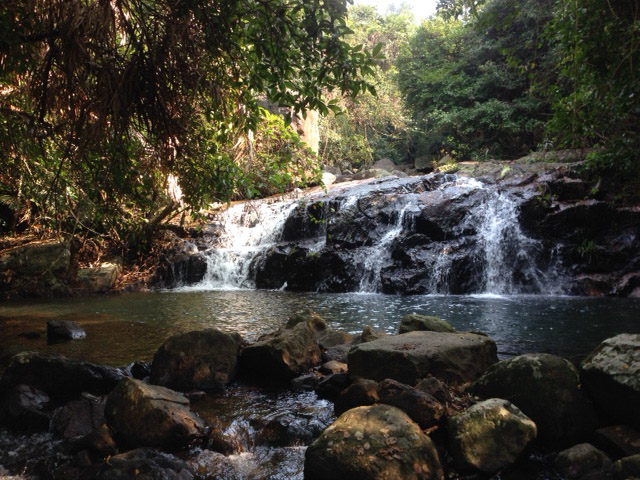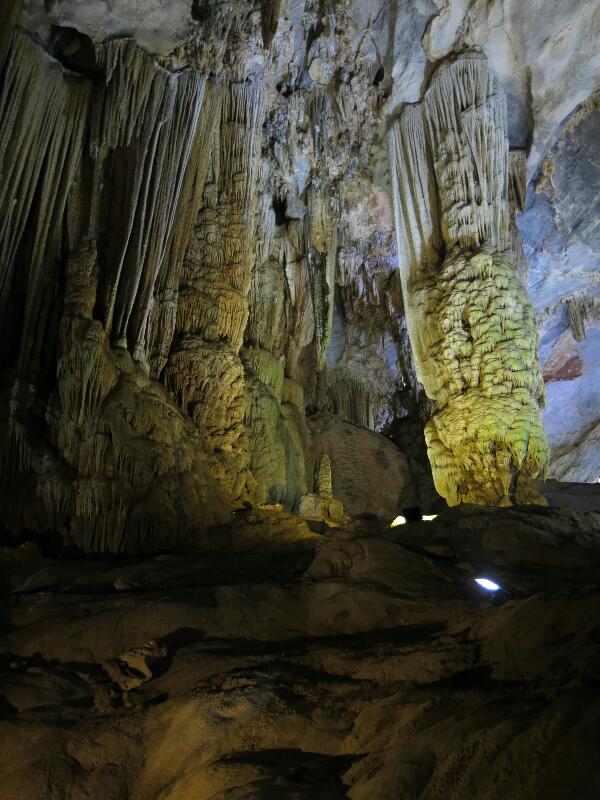 My next destination were the Vinh Moc tunnels, a maze of tunnels built to protect the villagers from the relentless bombing that took place there. According to a documentary that I saw at the tunnels the USA dropped 9000 tons of bombs in the area between 1966 and 1972 or the equivalent of 7 tons per person living there. The intensity of the bombing is stamped in the landscape, bomb holes everywhere around me. My skin had crawled every time I saw a badly affected fields but nothing prepared me for the tunnels. Dark and narrow where one could barely stand up they had been home to more than 90 families who disappeared under ground whilst bombs rained relentlessly on them and continued with their lives until they could come out again to work on their fields. Whilst walking the 2 Km of tunnels I felt a powerful mix of sadness and admiration. I imagined the villagers huddled in the dark tunnels, the smell of the latrines and of the bodies damp from the rain and sweat mixed with the smell of fear. I also felt their pride and defiance, digging with rudimentary instruments their underground village, singing, continuing with the schooling of the children. Each time I came to one of the many exits I didn't want to go back inside but I made myself do it and stay with the feeling. I was glad when I finished my visit.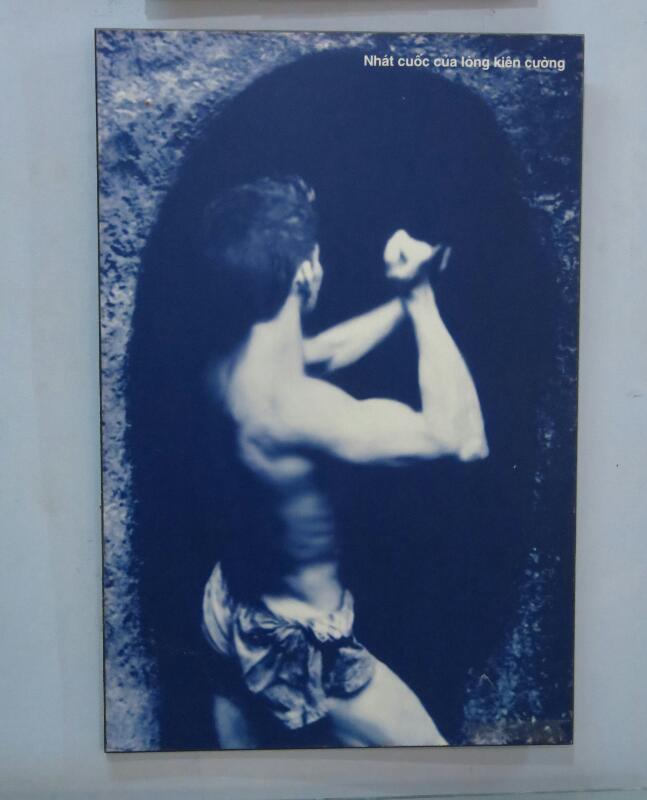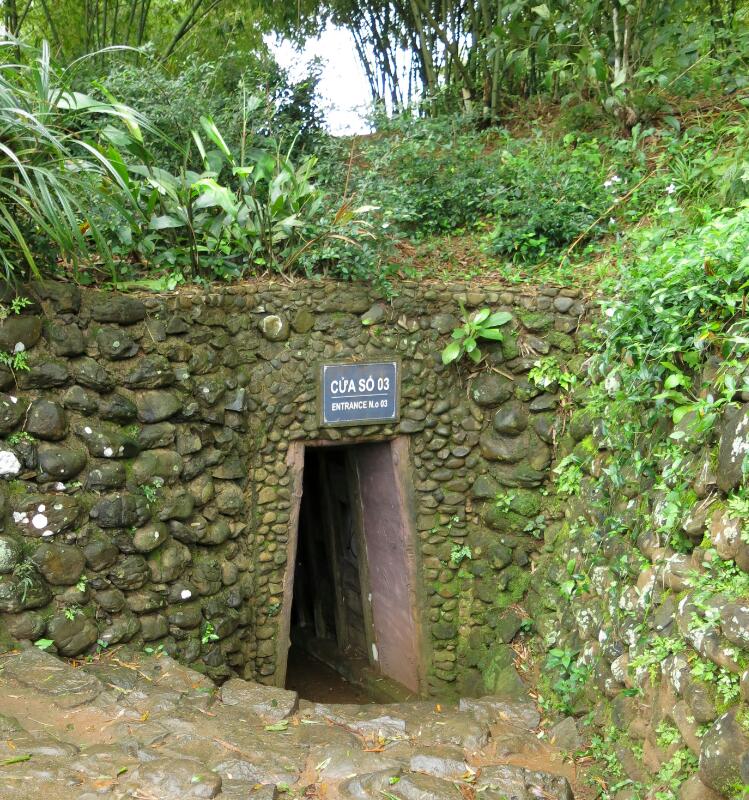 The documentary I saw showed the contribution of the local women to the war effort and some of the extremely dangerous missions they went on. During the Vietnam war women worked alongside men providing  manual labor to keep the Ho Chi Minh trail open, working in rice fields to provide food for their families and the communist troops. Women were enlisted in both the North Vietnamese Army (NVA) and the Viet Cong guerrilla insurgent force in South Vietnam. Some women also served for the North Vietnamese and Viet Cong intelligence services. They fought in combat with other soldiers.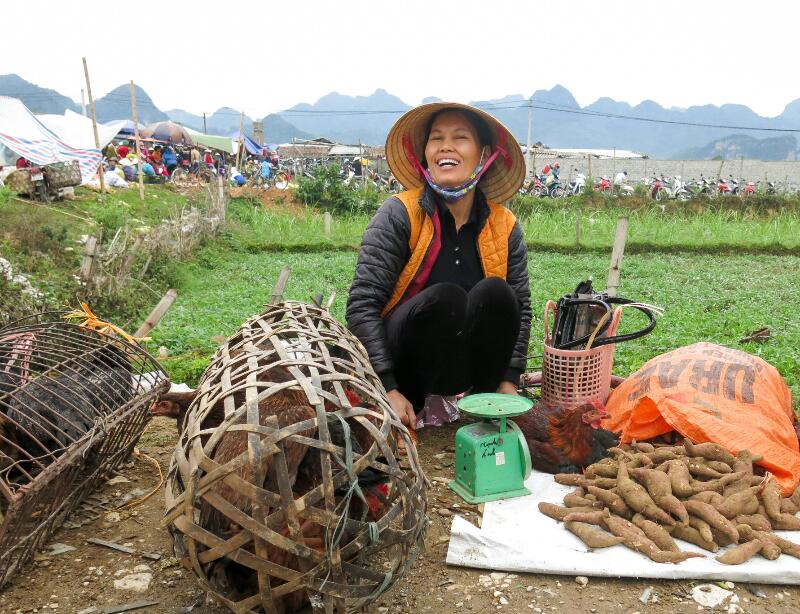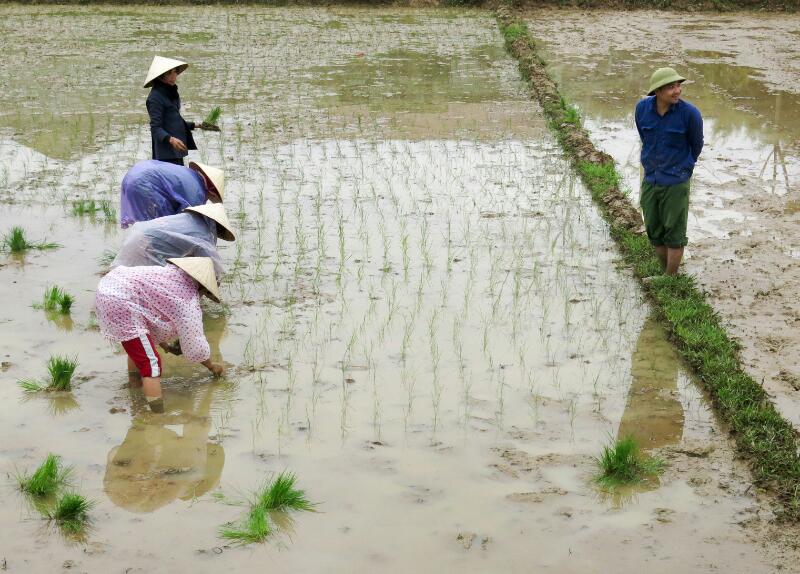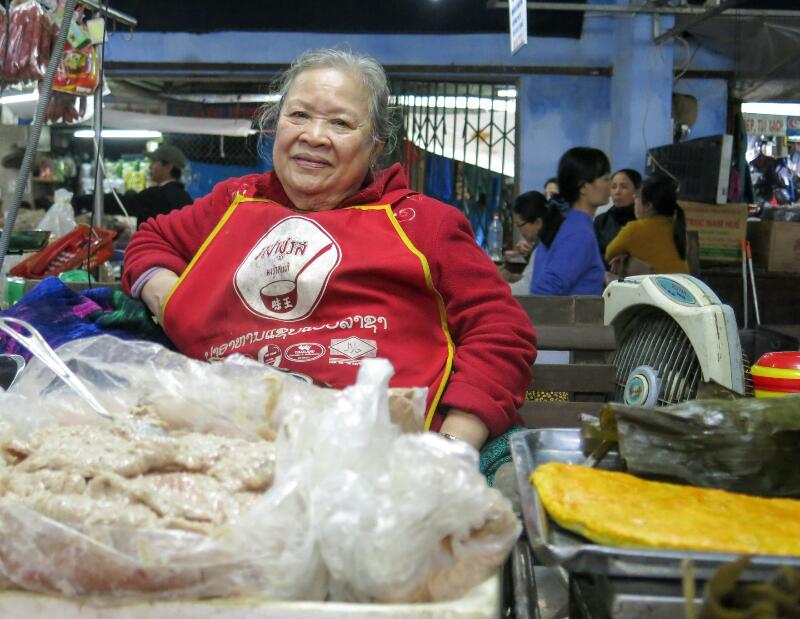 Today over 72% of women have a job outside the home, they make some 70% of the agricultural labour force and over 50% of the overall workforce and yet the gender pay gap is high (nearly 20% on average) and according to the International Labour Organisation this gap is rising. The figures mirror what I saw,  scores of women working in the fields, in markets, in food stalls, by their houses cooking and doing domestic chore, looking after their children.
What  I saw was a country full of strong women!