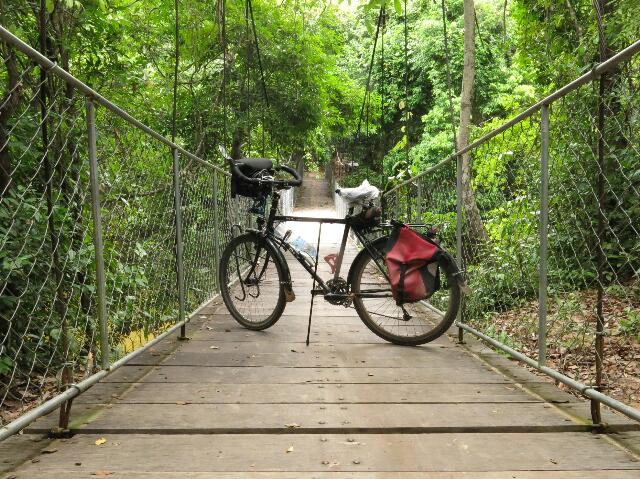 It was in Hue where things came to a head for me.  Anytime I stop for a few days I like to read the papers and catch up on what's going on in the world and in the UK and Spain in particular. Roundabout that time a series of horror stories about Brexit and the treatment that long term EU citizens had received from the authorities hit the headlines together with tales of deportations, halting food distribution in the Calais refugee camps and journalists being detained in Turkey. It was overwhelming,  my eyes welled up in anger at the injustice of it all and I couldn't but reflect on the contrast of this with my current reality, for nearly two years I have been welcomed by people of different cultures and religions in 23 countries.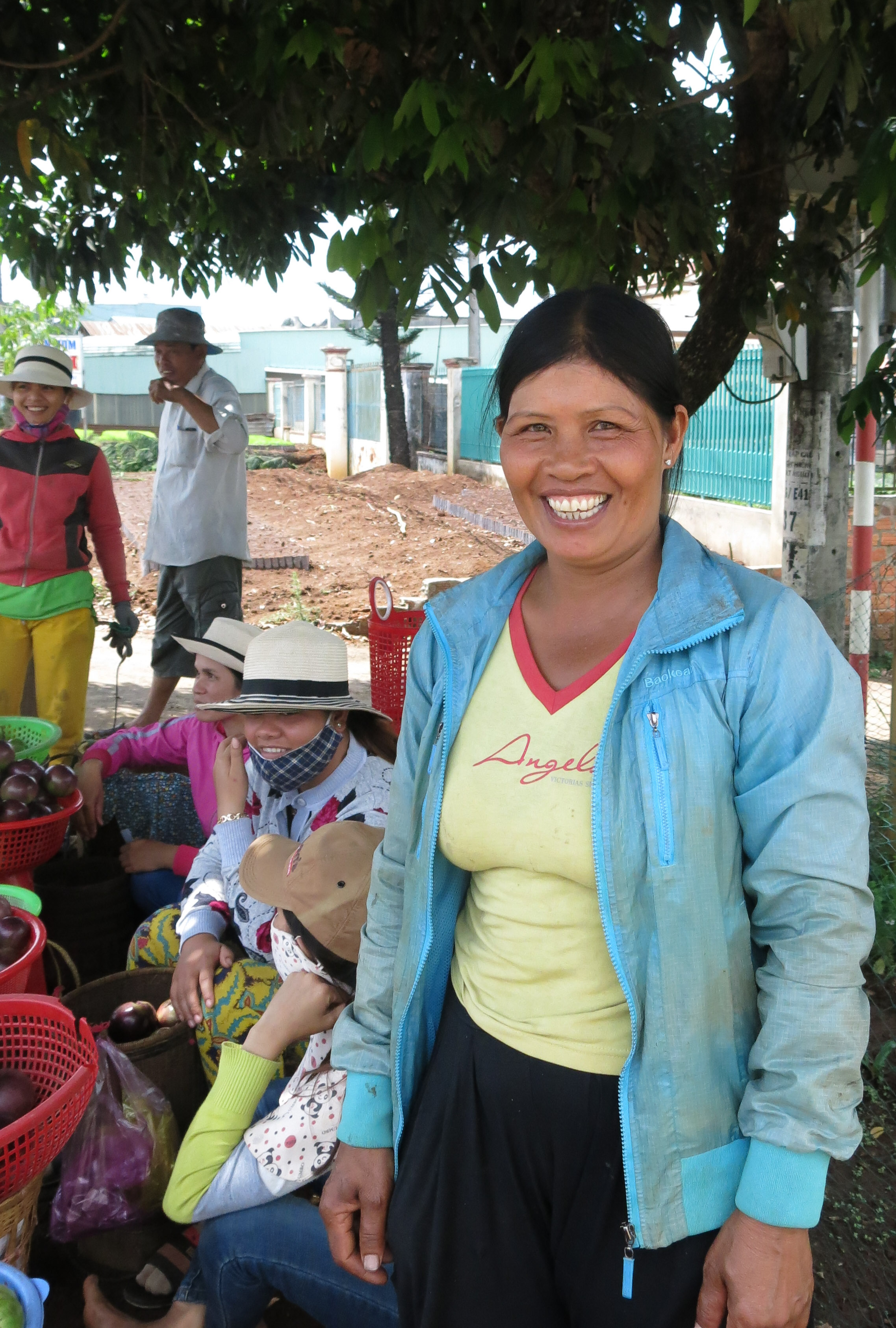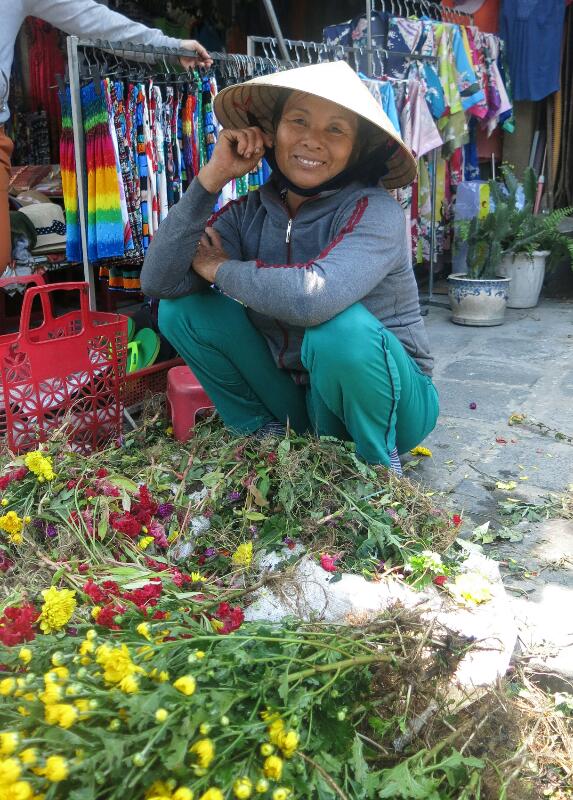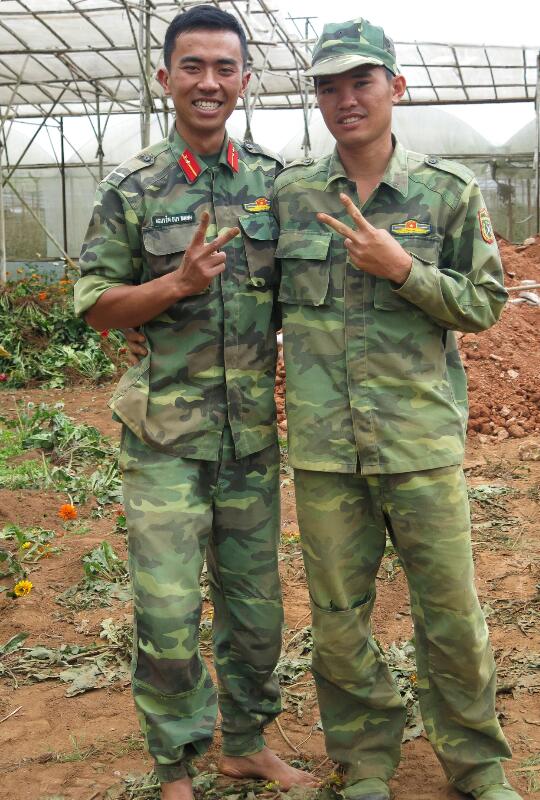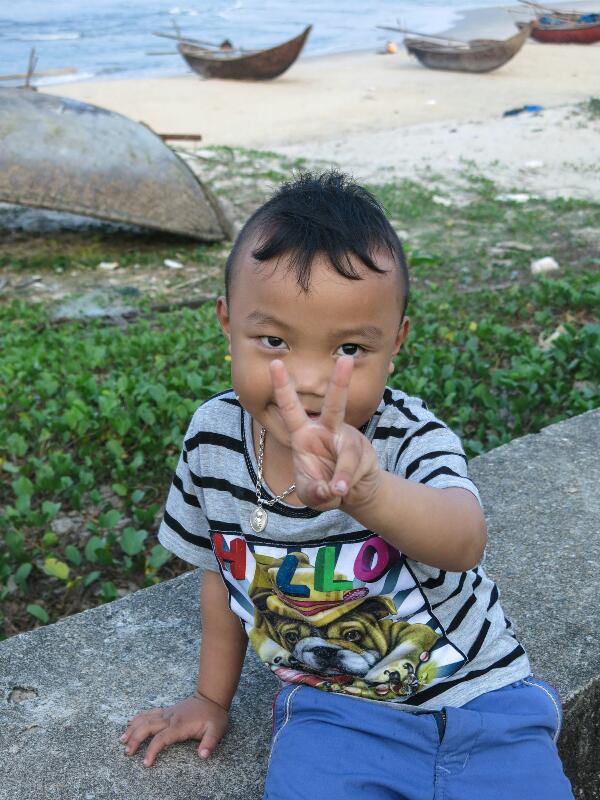 I allowed worry and anxiety to squat my mind but no way I was going to let them spoil my experience of the Hai Van Pass. In one of his books Theroux, having travelled across Europe, the Middle East and the Indian subcontinent by train, was amazed by what he saw from his compartment on the Trans-Indochinois:
Of all the places the railway had taken me since London, this was the loveliest.
Beyond the leaping jade plates of the sea was an overhang of cliffs and the sight of a valley so large it contained sun, smoke, rain and cloud – all at once.
I had been unprepared for this beauty; it surprised and humbled me.
Who has mentioned the simple fact that the heights of Vietnam are places of unimaginable grandeur?
And the road didn't disappoint either,  a huge expanse of sparkling sea on my left, the jungle in the slopes of the mountain on my right and hundreds of small golden dragonflies shimmering just above my head, the climbing was glorious and the views from the top stunning.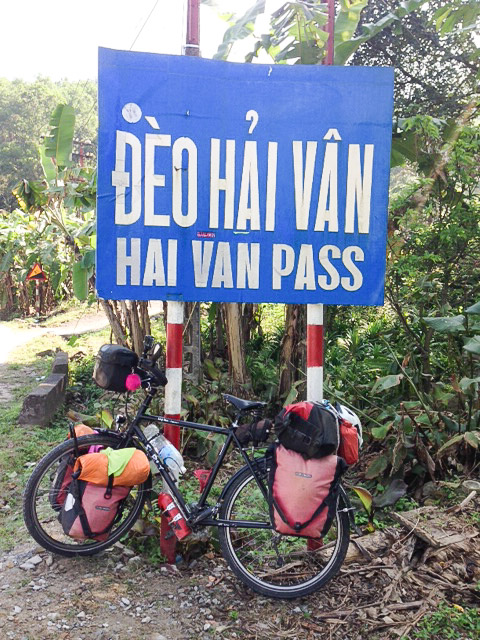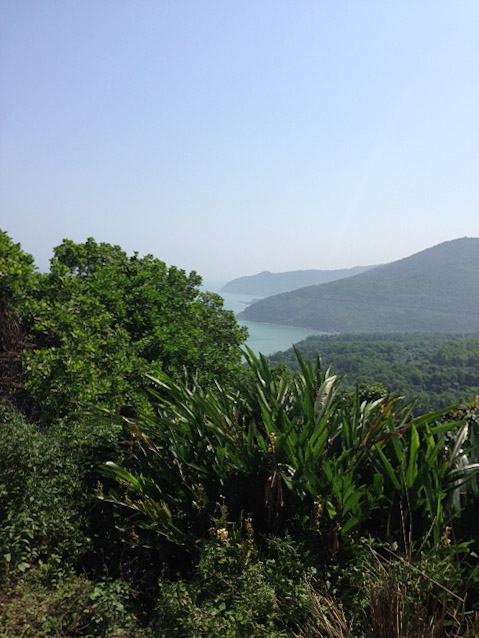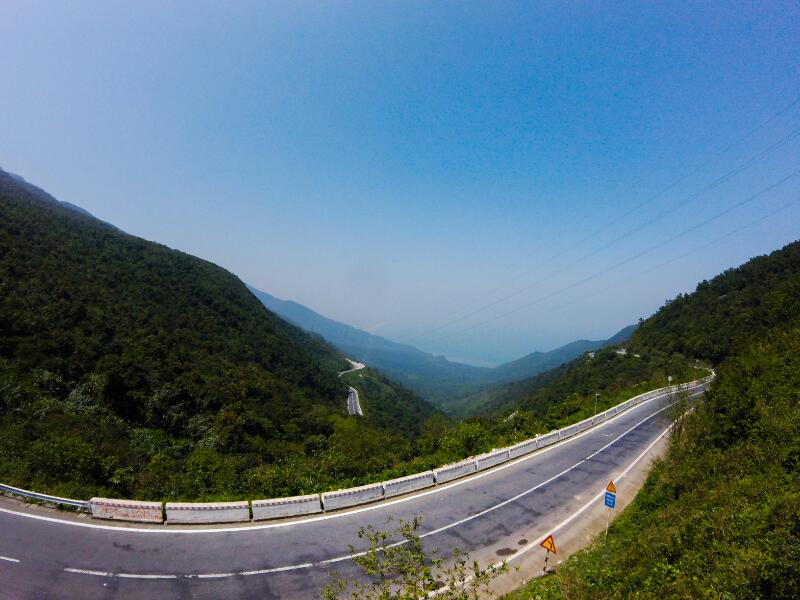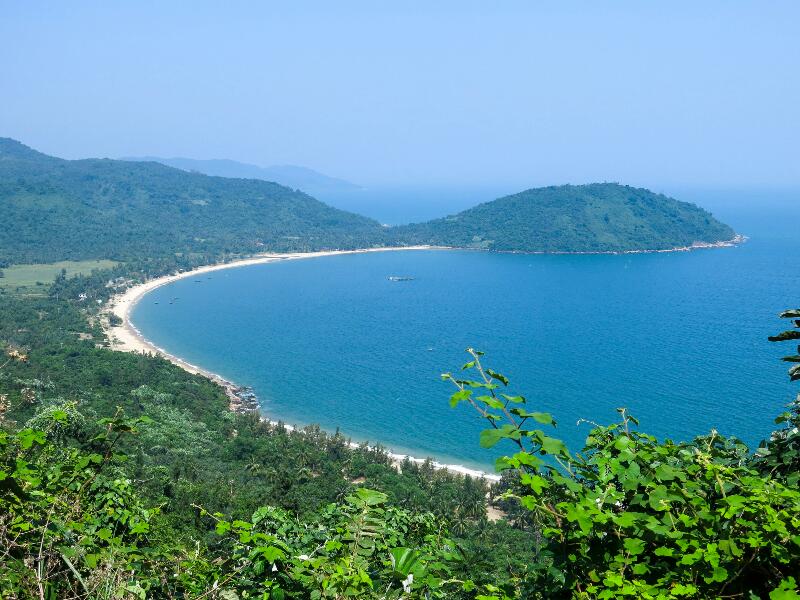 I was looking forward to Hoi An too, every single traveller I had met in Vietnam told me about the beauty of the place. I spent a blissful week in this town forgetting my worries and enjoying the food and the beach, wandering around its old town and cycling around small islands, enjoying beautiful sunsets and the company of Ana and Jace.  Of all the things I did there, visiting the Rehahn photography exhibition was an absolute highlight.  I had seen some of his photographs at the Hanoi Women's Museum where I fell in love with them, portraits of old women with smiles in their eyes and missing teeth, each of their wrinkles telling us something about their lives. I couldn't believe my luck when I discovered he had a permanent exhibition in Hoi An where I  had the chance to meet and talk to the him. The secret, he told me, is that I love them, something evident when you look at his photographs.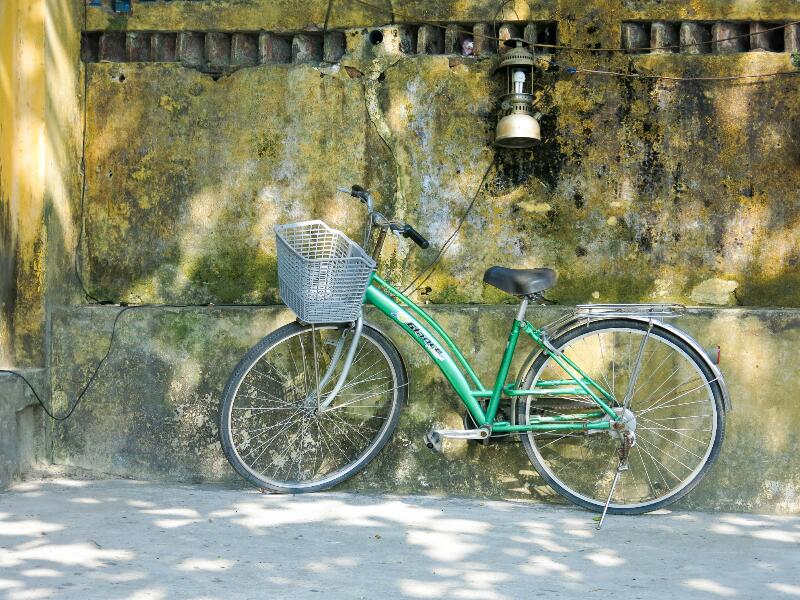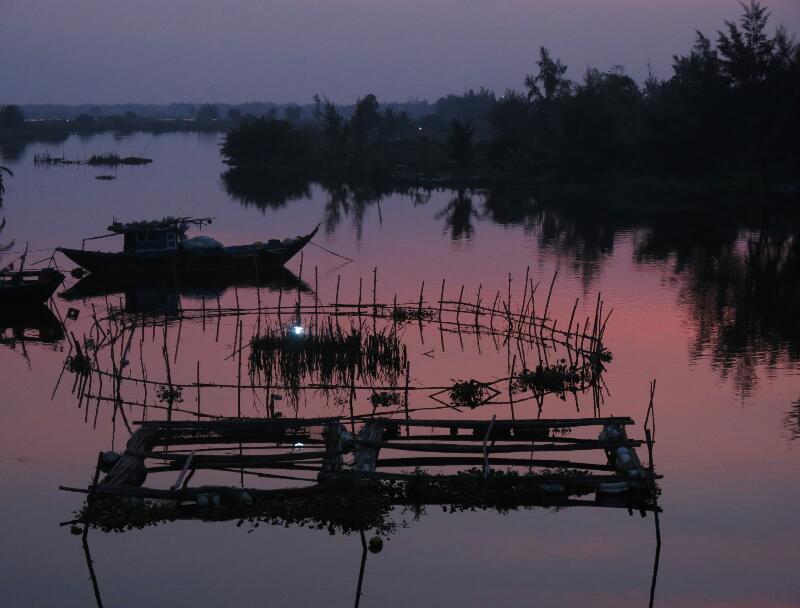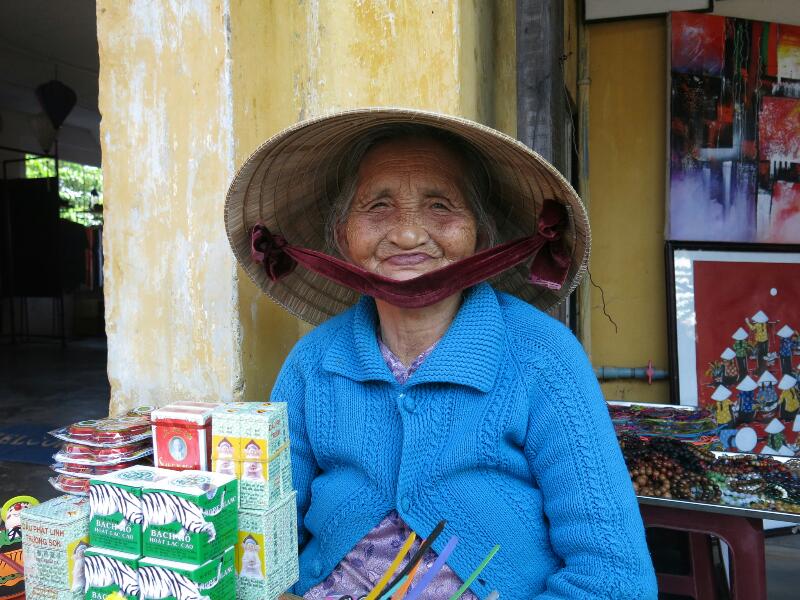 It was in Hoi An where I spent my second birthday on the road. I marked it by joining the local full moon celebration in the company of Jace and Ana. We watched how the lanterns we placed in the river joined the hundreds of others already floating in the water, the moon bright above our heads and soft street lights making the houses of the Old Town glow.  I felt content.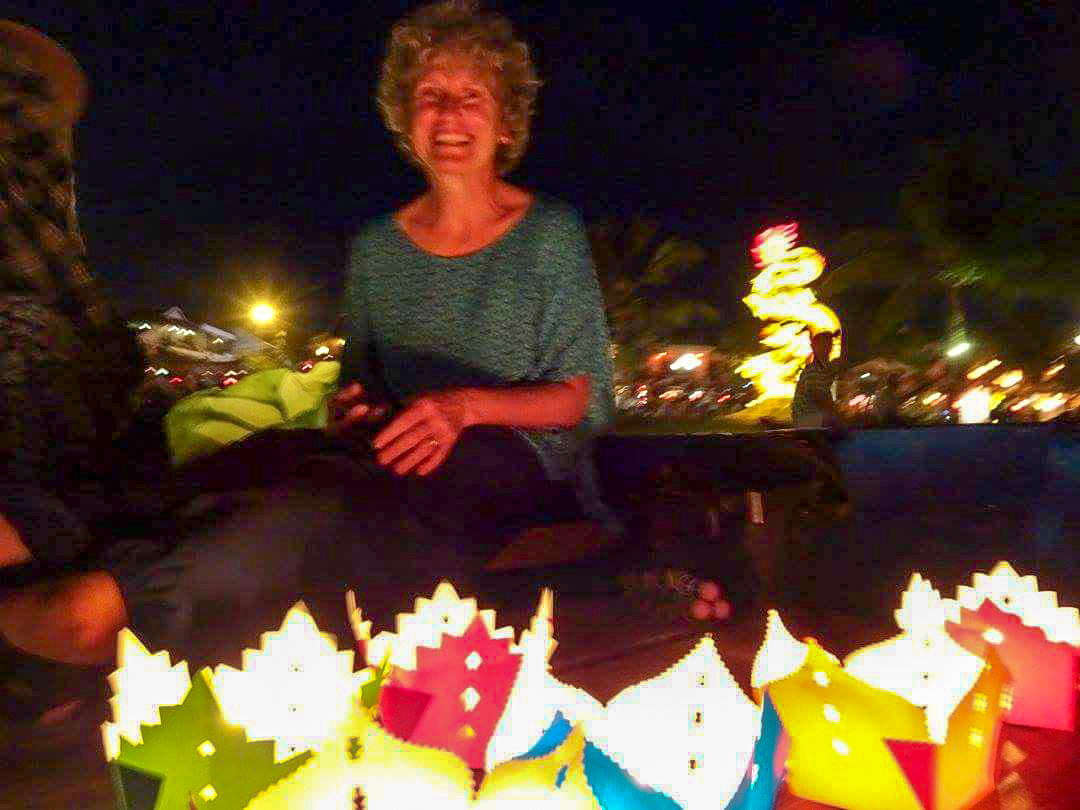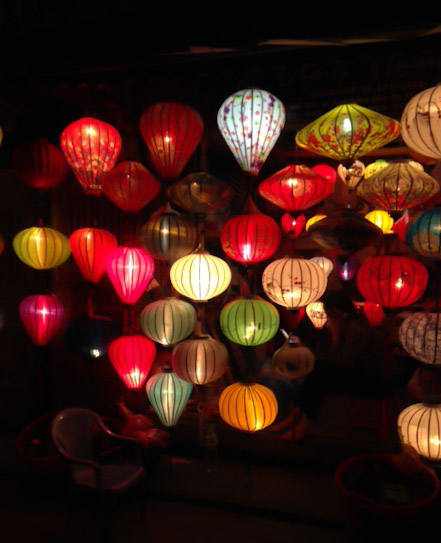 Hard as it was to leave Hoi An, time was ticking on my visa and I wanted to make it to the Mekong Delta before crossing into Cambodia. I left on the 14 March, exactly a year after I'd entered Iran, one of my favourite countries in this trip. I followed the coastal road crossing villages with fish hanging to dry, huge pots of yellow chrysanthemums outside the doors of the houses, fishing boats moored in the sand and hundred of villagers swimming at dawn in a sea that looked like a milk pond at that early hour.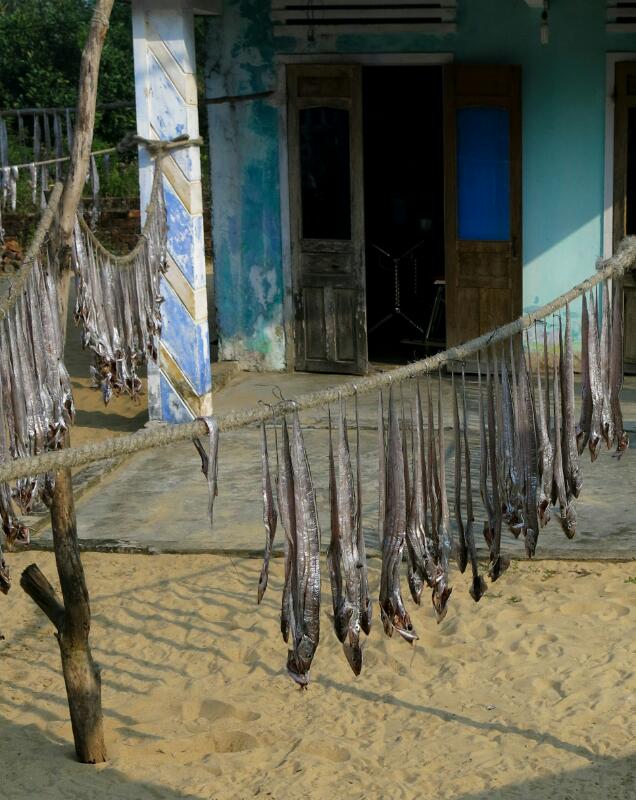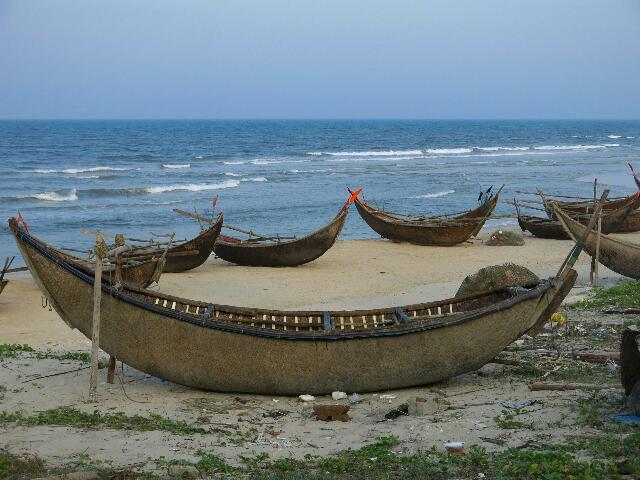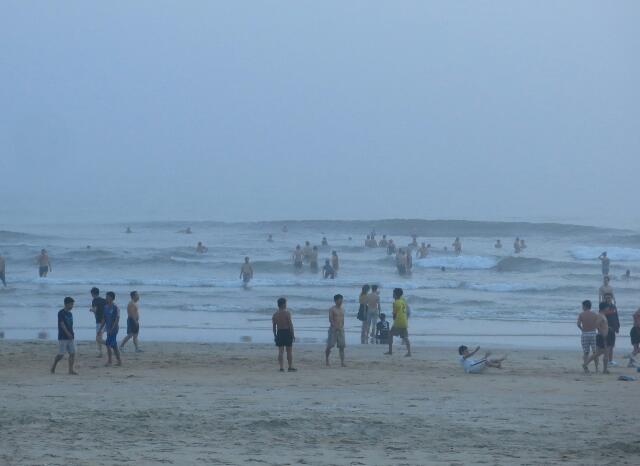 I passed clouds of children on their bikes coming from or going to school, they loved racing me. The pattern always the same: I overtake them, they look at me in surprise and one of them, the most daring, grins and says "hullo" followed by "what is your name? ", before I have time to respond they speed ahead in their old squeaky single gear bikes, huge big smiles in their faces because they are faster than me.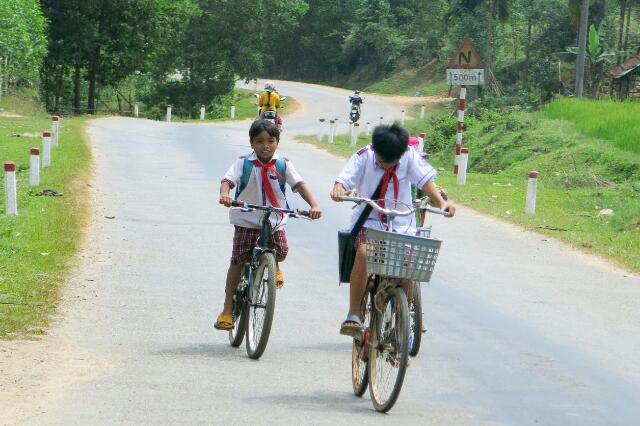 The rainy season was approaching, it rained most days and it was extremely humid. Day and night, my body was never dry, small rivers of rain water or perspiration running through its geography, pooling in its crevasses and leaving behind a film of salt that made my clothes stiff and my skin itchy.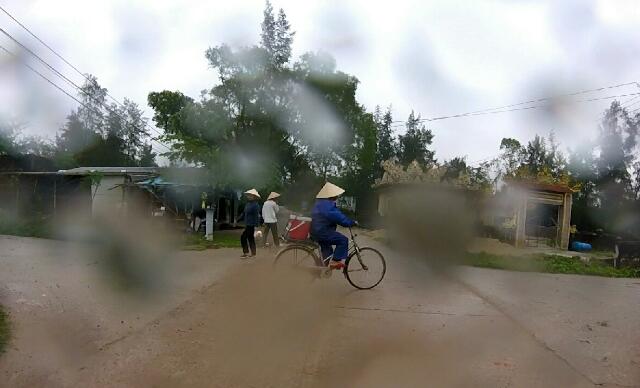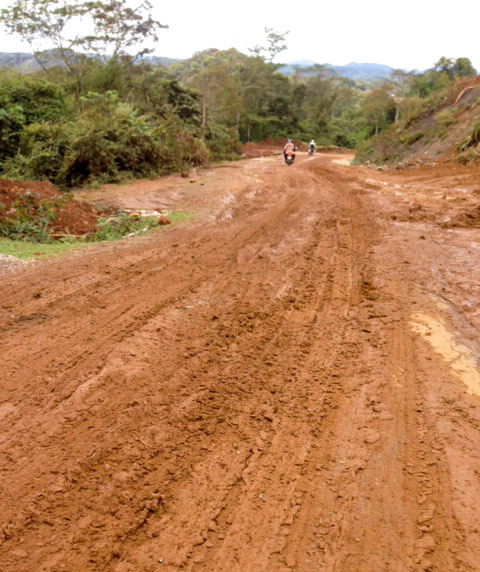 Vietnam is a coffee country and you can find coffee shops everywhere. Coffee drinking is about spending hours waiting for the coffee to be ready whilst talking to friends and then spending hours with a small cup still deep in conversation.  The perfect speed for the coffee to get through the Vietnamese coffee filter is one drop per second.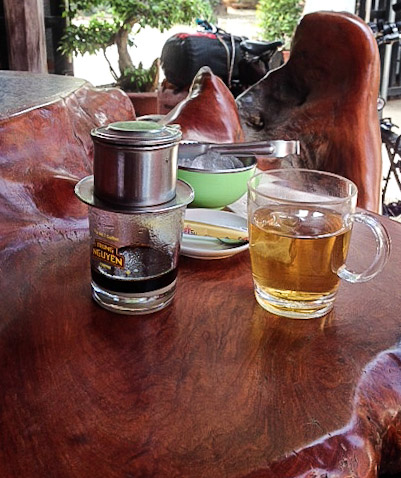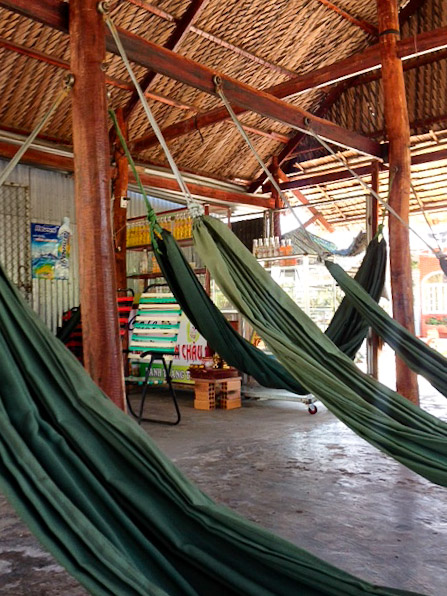 A coffee lover,  I couldn't leave Vietnam without exploring its coffee plantations and that meant going to the Highlands and climbing again. I reached places where, judging by the reaction of people,  westerners weren't common place. On one occasion a man skid in some gravel and came off his motorbike, when having a good look at me and on another a toddler looked at me with terrified huge eyes, burst out crying and run in panic to hide in the arms of her mother.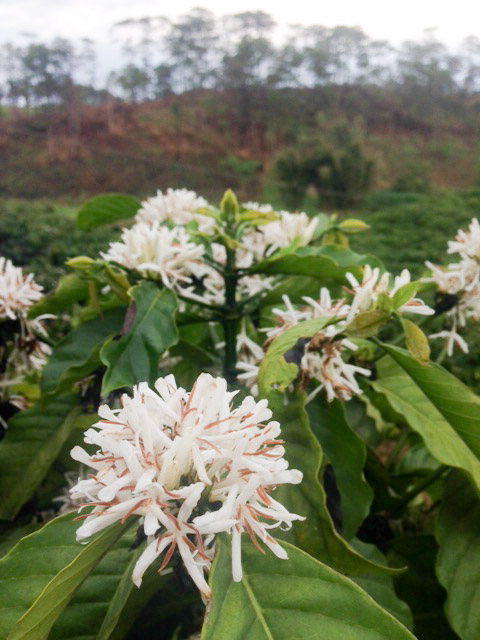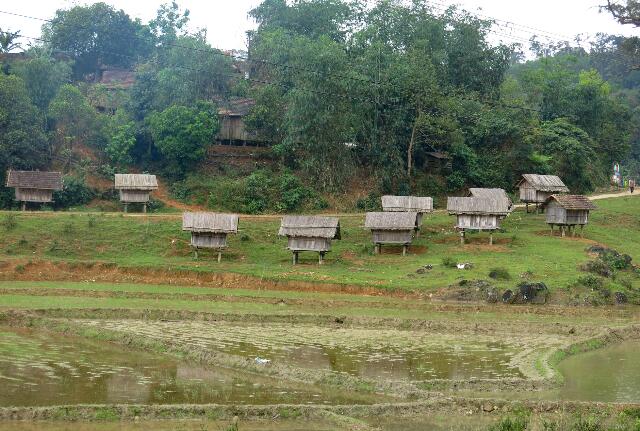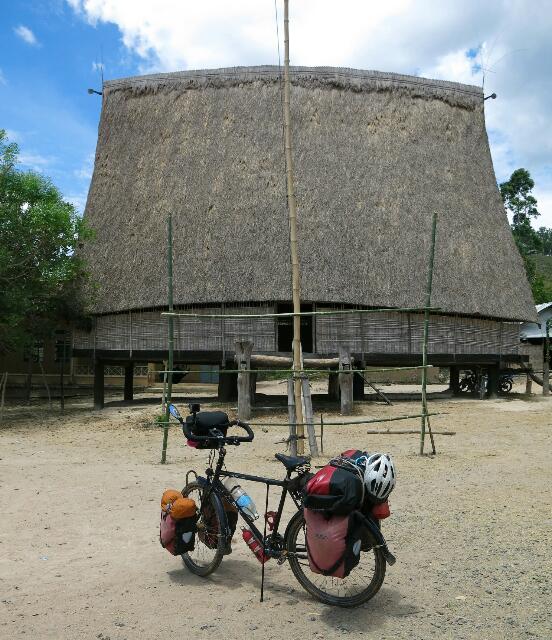 By the time I got to Da Lat, a hill station built by the French my worries about Brexit intensified. I began considering going back to the UK for a while to maintain my permanent residency entitlement by not being out of the country for more than two years. I wanted to stop thinking about it and Da Lat gave me plenty of distractions but not enough to stop me from feeling a bit lost each night when I got back to the hostel. A feeling that sat in the pit of my stomach, a mix of anxiety,  unsettledness, lack of focus… Each day I wobbled, I binged on cake, I read my book and eventually fell asleep.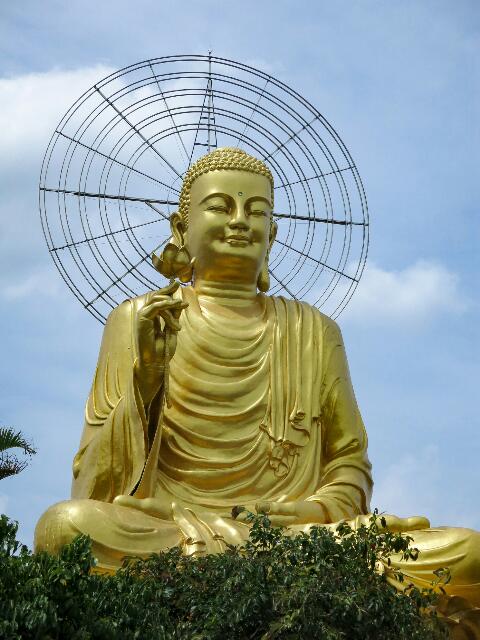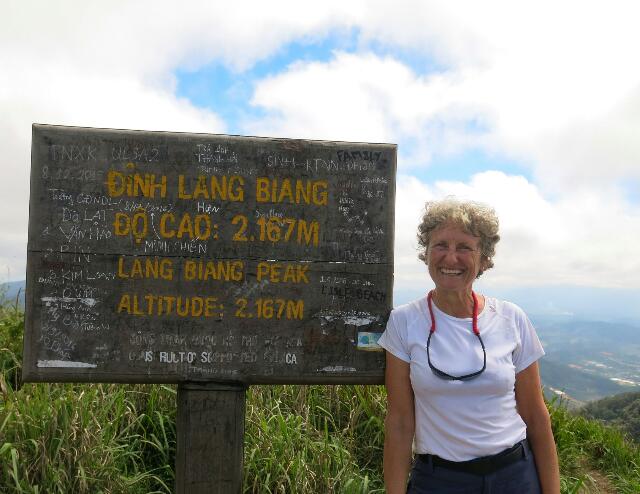 In that state of mind I  continued my way South to Ho Chi Min City.  More coffee plantations, more climbing, more rain. All along the way people continued to smile and say hullo but I observed that something had switched inside me and I wasn't as responsive, they responded to my silence with louder and louder hullos until they became near hysterical screams that made my anger rise. How could they expect a response? Could they not see how hard it was going uphill fully loaded? How hard I was working? And then I would see a tiny woman straining to push a heavy bike loaded with  "recycling" material towering above her and I would feel ashamed of myself and remind myself that I was doing this by choice.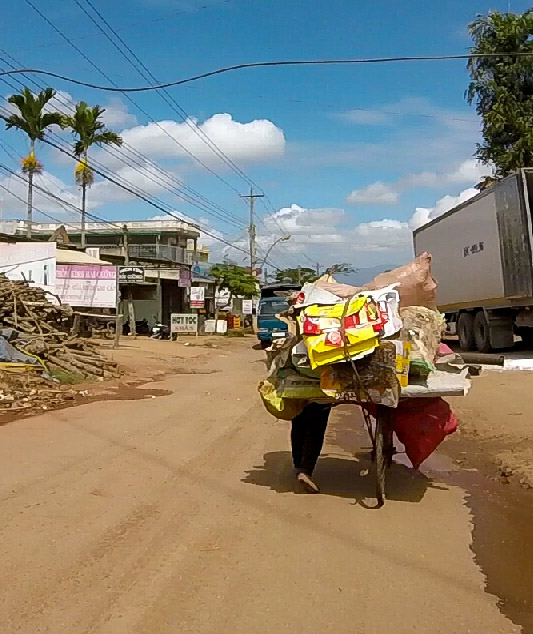 I started to interpret 'ordinary' events as messages from the universe telling me to go back home. Part of my routine had been cooking in the guesthouses with the TV at top volume to cover the noise of my very loud petrol stove but just before Ho Chi Min  City I didn't realise that it was leaking and I nearly set the place on fire. In a split second all the fire training of my working days rushed through my head: Not an electrical fire so water is OK. I poured some water and extinguished the fire. When I left the place, my room smelled like a petrol station.
My age old patterns came out to play. I'm an expert at letting my internal doubts fell upon deaf ears and that's just what I tried to do now, I just carried on pretending nothing was going on. In Ho Chi Min City I stayed with the most wonderful Warmshowers host and her lovely, interesting kids,  long conversations, jazz evenings, red wine, the company of other cyclists, I couldn't have asked for more.
To get to the Mekong Delta and the famous Can Tho floating market I crossed hundreds of branches of water big and small using bridges and ferries, cycled through rice fields and down small paths by one one of the river branches.  I had been following  this mighty river through 4 countries since I first encountered it in the Chinese province of Yunnan and here it was meeting the sea.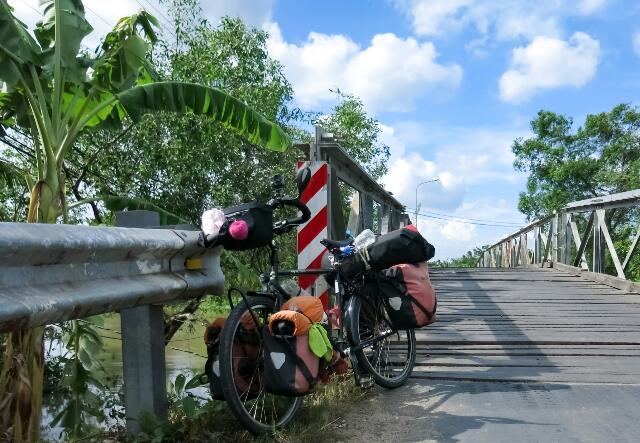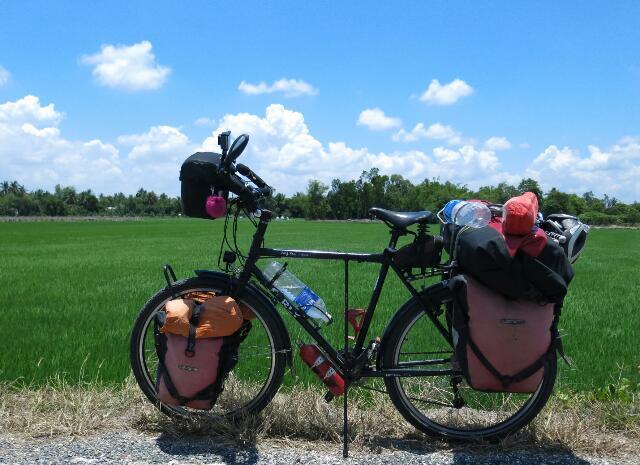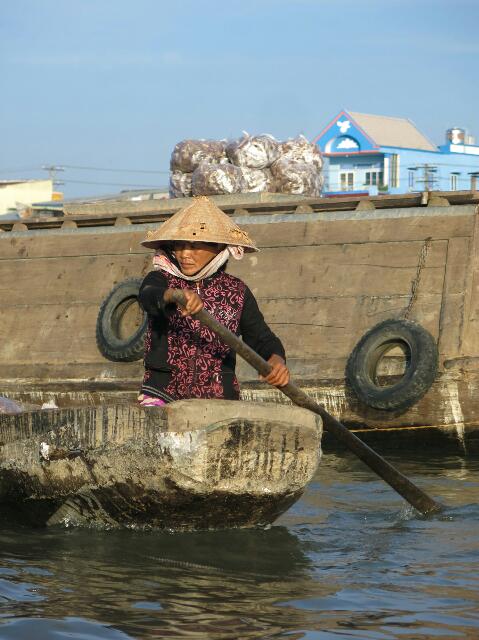 On the day my Vietnamese visa expired I crossed into Cambodia where I made my final decision.  Conversations with friends and my daughters gave me the last push. I would go back to the UK from Bangkok, I would join the thousands of long term EU citizens filling the 85 page form and gathering the huge pile of documents required as evidence to get a piece of paper confirming my entitlement, I would set off again to continue my journey after a rest and the security that I could come back 'home' any time I wanted and… I would commit to never being out of the country for more than two consecutive years in order to maintain the residency.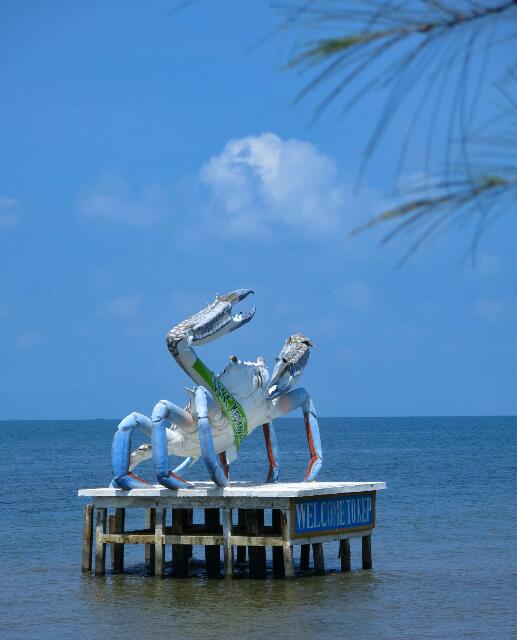 A huge weight lifted off my shoulders once I made the decision. Now I should be able to enjoy Cambodia, I thought. Well, that's what I thought but how do you stop the mind from racing ahead, generating lists of things to do? Being on the next trip before this one is over? Cycling for a couple of days with Kris, and Adele, a Polish couple who have been on the road for 7 years, was the perfect antidote. With them I celebrated Easter Polish style, made coffee by the side of the road, set my tent next to theirs in a temple, had conversations outside the tent in the dark… When you are on your own you have too much time to think!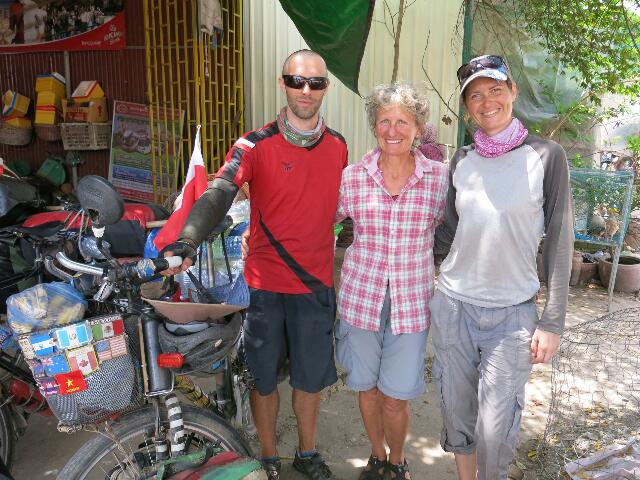 Cambodia was different from Vietnam, less populated, no cafes or eateries everywhere along the road and similar to Laos, buffaloes, temples and poorer.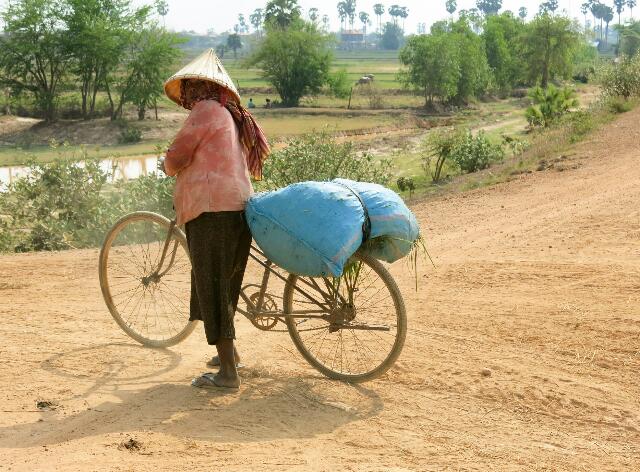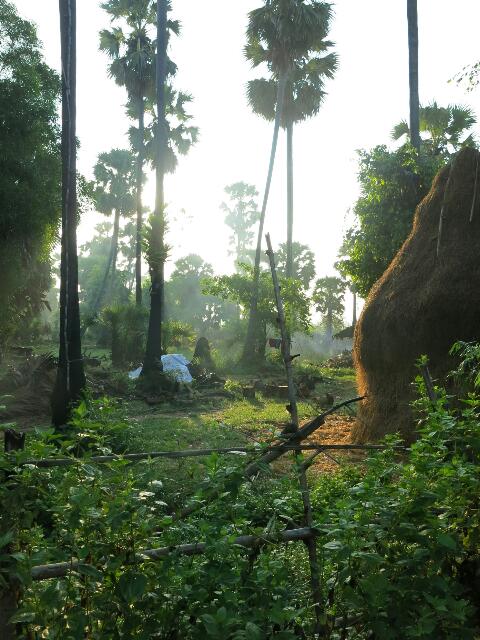 Cambodia is a country with a tragic recent history,  it was heavily bombed by the USA  between March 1969 and May 1970 during the Vietnam war. In an operation that Nixon and Kissinger kept secret to avoid criticism, the American forces dropped over 120000 tons of bombs and ordnance in the country and today, according to the Mines Advisory Group it is  of the most heavily landmine and unexploded ordnance (UXO) affected countries in the world killing two people every week.
As more than 80 per cent of people live in rural areas and depend on the land for their survival, the landmines further trap people in poverty by restricting access to productive land.
Apart from the large human toll, that continues until today  perhaps the most powerful and direct impact of the bombing was the political backlash it caused, the rise of the Khmer Rouge and its ascent to power. 
In proportion to the population, what happened next was a human catastrophe unparalleled in the 20th century. Out of a 1970 population of probably near 7,100,000, Cambodia probably lost slightly less than 4,000,000 people to war, rebellion, man-made famine, genocide, politicide, and mass murder. The vast majority, almost 3,300,000 men, women, and children (including 35,000 foreigners), were murdered within the years 1970 to 1980 by successive governments and guerrilla groups. Most of these, a likely near 2,400,000, were murdered by the communist Khmer Rouge.
As I cycled I Cambodia what struck me was how young everyone looked, by their absence people over 55, the missing generation,  where forever present in my mind.
In Cambodia I slept in temples a lot of the time, woke up to the sound of cockerels crowing before dawn, mist in lily ponds and images of Buddha.
It was very, very hot and I was always so sweaty when I arrived that I looked forward to my temple 'shower'  at the end of the day,  a small outbuilding with water in a concrete tank and a scoop to pour it over you.  However, one evening I arrived at a temple where the facilities were inhabited by all sort of creatures including an enormous spider. There was just no way I would wash there and the salt was making my body really itchy, something had to be done.  I had been shown to a huge pottery jar with water when I asked earlier where I could wash my hands so wrapped in my sarong and taking advantage of the dark,  moonless night I soaped and washed my body bit by bit without taking it off as I had seen women do at the common tap in some laotian villages,  the water from the jar was warm and it felt delicious. I could now snuggle under my mosquito net to read my book, the now familiar night sounds music like in my ears.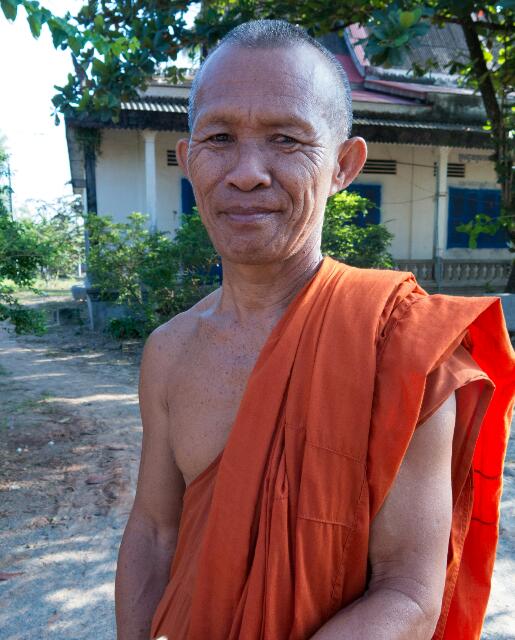 With a cracked rear hub I made it to Phnom Penh, from replies in the social forums where I had posted asking for advice I knew that making it to Bangkok would be a lottery. The solution was at hand in a street corner, a chaotic place full of used rusty bicycle parts amongst which I found the right size wheel which by the amount of cobwebs covering it, had been there for a while. I agreed a price with the young man running the stall and in the blink of an eye he trued my front wheel, took the cassette of my bike and put it on my new-old wheel, trued the wheel and adjusted my brakes and gears. I had never seen anyone work on a bike that fast.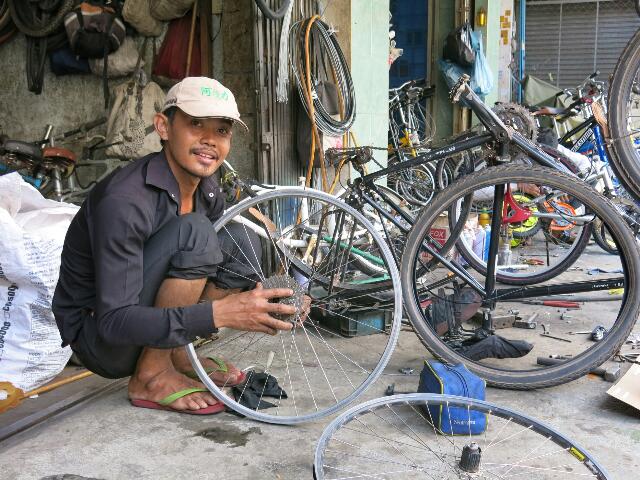 Now I could continue confidently to Bangkok but not before a mandatory stop at the Angkor Temple complex near Siem Reap where I spent three days on my bike exploring the temples.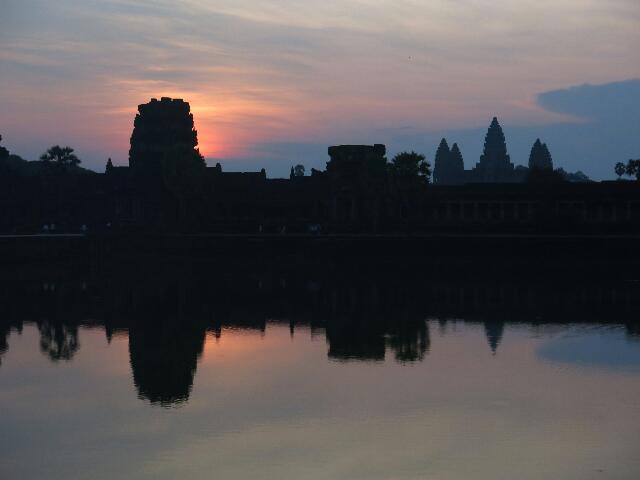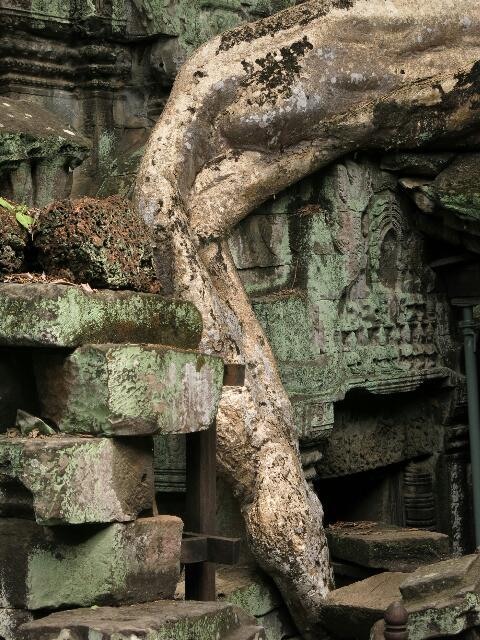 And in Siem Reap I got my ticket home and I began to really look forward to seeing my daughters and all my loved ones but I before I realised I was looking at the map of the world and the cost of flights to Cairo!